It's been a long journey since my pro debut at Vineman last July. My mystery foot injury has finally receded, I joined the QT2 Systems pro team, and at the request of my coach, I've been jumping into tiny local races on a monthly basis, putting a lot more W's on the resume. I even claimed my first outright win in February, outrunning all the men at the Du Three Bears 5 Mile. But the big targets are still on the Ironman 70.3 circuit, starting with Oceanside in early April. This was good timing, coming off of a very productive pro camp with fellow QT2 athletes in February. That block of 11 intense days working with a team of coaches and learning from some of the best athletes in the sport was a game changer for me, with a lot of breakthroughs in swim, bike, run AND recovery skills.
Still, I felt oddly apprehensive about Oceanside. As it is every year, the field was stacked with some of the top triathletes in the world, but it wasn't the competition that scared me. My 2016 injuries weakened my run training last year, and yet I still came away with a pretty solid run split at Vineman… Because instead of relying on training, I was running on pure grit. And that is super painful. After Vineman, whenever I thought about 70.3 racing, all I could think was "that really hurts," and I wasn't sure if I was ready to go that deep into the pain cave again. I was dreading Oceanside, specifically the run.
Oceanside was also the debut of my new bike, courtesy of sponsor Quintana Roo. I was excited to spend some time with this flashy new ride in its natural habitat, but our relationship was still new, so I wasn't sure what to expect out there.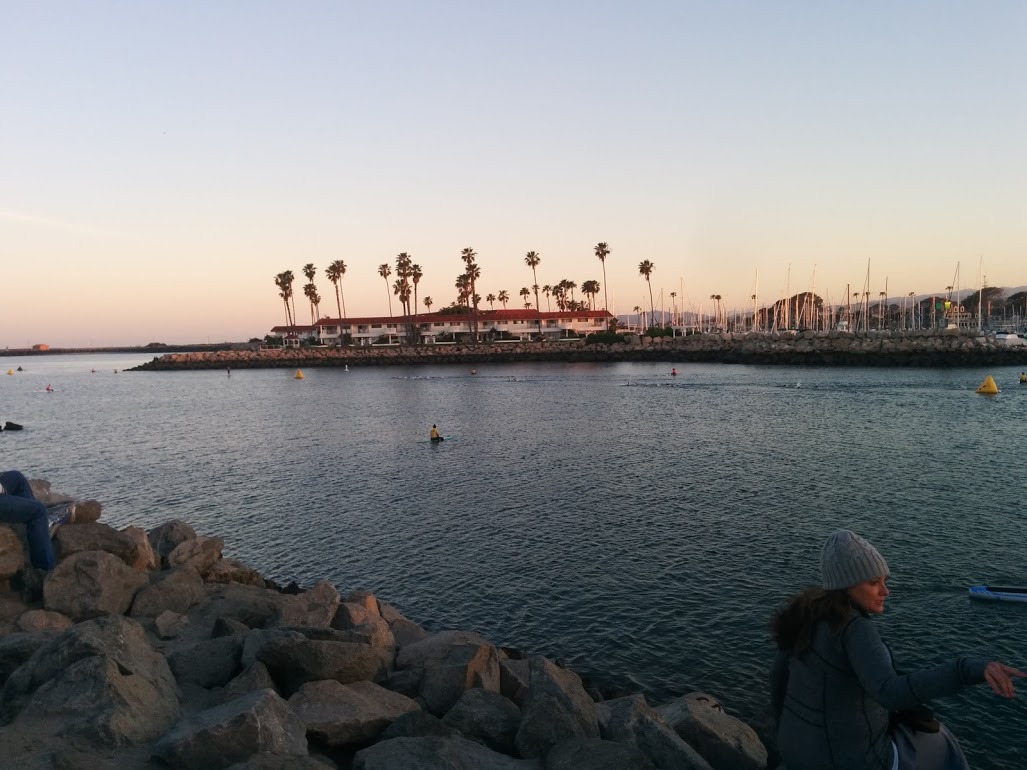 The harbor was cold and dark race morning, and the water was at least ten degrees warmer than the chilly dawn air, so it was a relief to get in and swim around before the start. The women's start was five minutes after the men, and as soon as they departed, we lined up, only to bob around aimlessly, turning into popcicles while we awaited the countdown.
Once we got going, the swim was great – the water was relatively calm, the buoys were easy to spot, I had a pack of girls with me, with someone tickling my feet the whole way.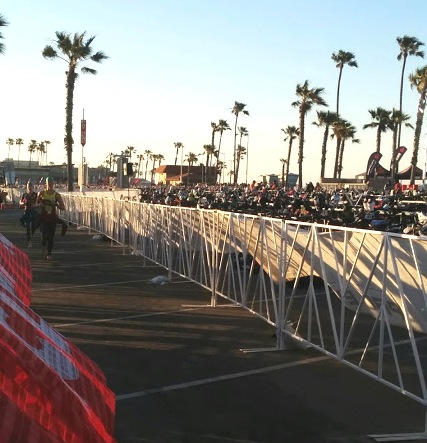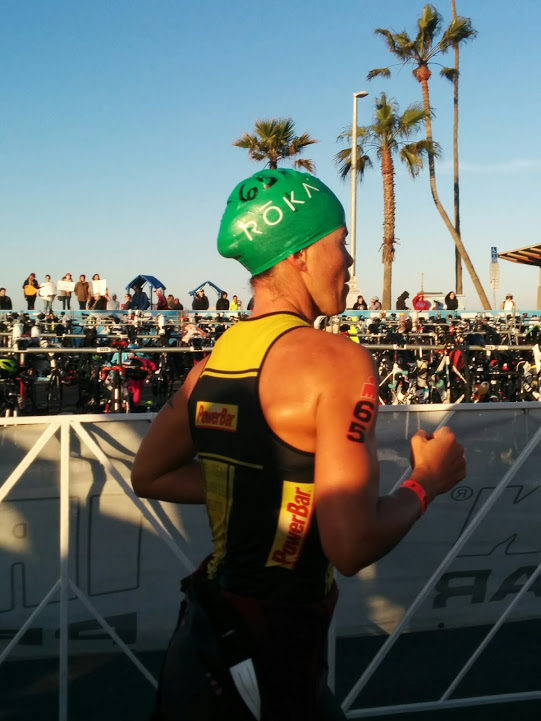 A nice long T1 run advanced me a few positions.
The bike course had some hills, some rough road to look out for, but for the most part we'd be on the Camp Pendleton military base, so traffic would be limited, and the route promised to be quiet and enjoyable. Several of my swim buddies ditched me fairly early on in the ride, but by mile 8, the fastest age group men had already erased my 10 minute head start and were zipping past in a blur of disc wheels. Something wasn't right. I wasn't holding my power targets, and my heart rate was so low I thought my watch was broken. 120 bpm is not a Racing-Your-Bike heart rate, it's a Strolling-To-The-7-Eleven heart rate. Fast men were streaming past, and even though they weren't my competition, the constant displays of how fast one ought to be moving on two wheels was demoralizing. I was in for a long day.
Mile 28 was the first and most significant climb, a long steep grind in the lowest gear. Right around this point I was ambushed with intense pain in the adductors, as roughly one quarter of my thigh muscles decided they no longer wanted to partake in the day's adventures. My training had given no warning of this vulnerability, and I had survived a number of much longer, hillier, and/or higher intensity workouts with no issue. My already low power readings dropped even lower as pain prevented me from exerting any additional effort. Meanwhile droves of age group men continued to overtake me, and then two age group women as well. My face was twisted in a grimace as I breathed through clenched teeth and scoured my reserve of Positive Thinking to try to convince myself that all was not lost. I tried to ignore ideas about what kind of trouble I would be in arriving at T2 with legs that had officially given up, and I just focused on the carrot in front of me: get to the RUN. I had never anticipated a run with such desperation, but I had reached the point that anything sounded better than biking.

This is what it would look like if I was chasing myself. Which, in a way, I usually am.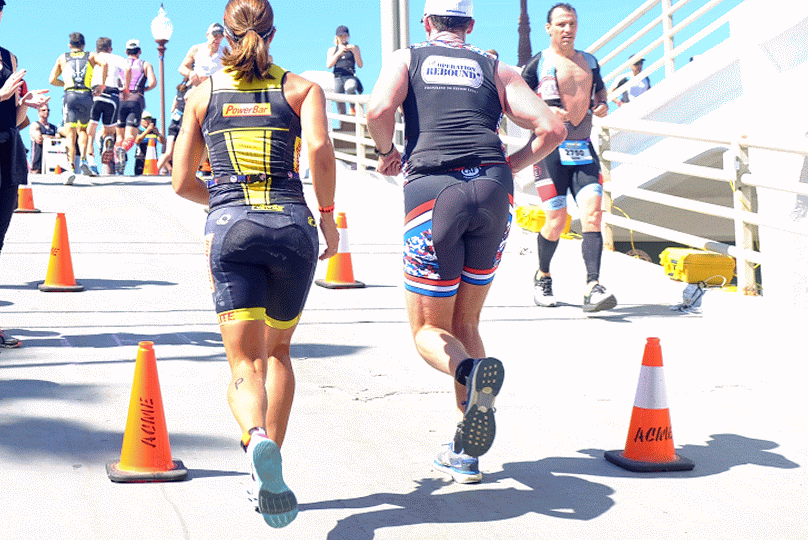 Why am I running up this hill? This hill is much too steep.
As mile 56 delivered me into T2, I leapt off the bike with relief, and to my surprise – despite the necessity of leg muscles for running – I suddenly felt no pain at all. By contrast, running actually felt good. Really good. And this two loop route along the beach was lined with exuberant spectators whose enthusiasm seemed to magically propel me forward. I was having a blast, according to the many spectators who commented on my gleeful expression as I floated past.
The chilly morning had given way to a mild but sunny day, the perfect setting for a beachy run. The misery of the bike ride melted into the distance and I couldn't believe my good fortune as I ticked off mile after mile, steadily advancing my position as I passed several other pros, and those two age group women who had passed me on the bike. I even had enough in the tank to give an extra push down the finish chute, in celebration of being done, and of my newly rediscovered love of running.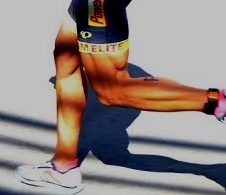 Did I tell you about the time my hamstring crawled right off the back of my leg?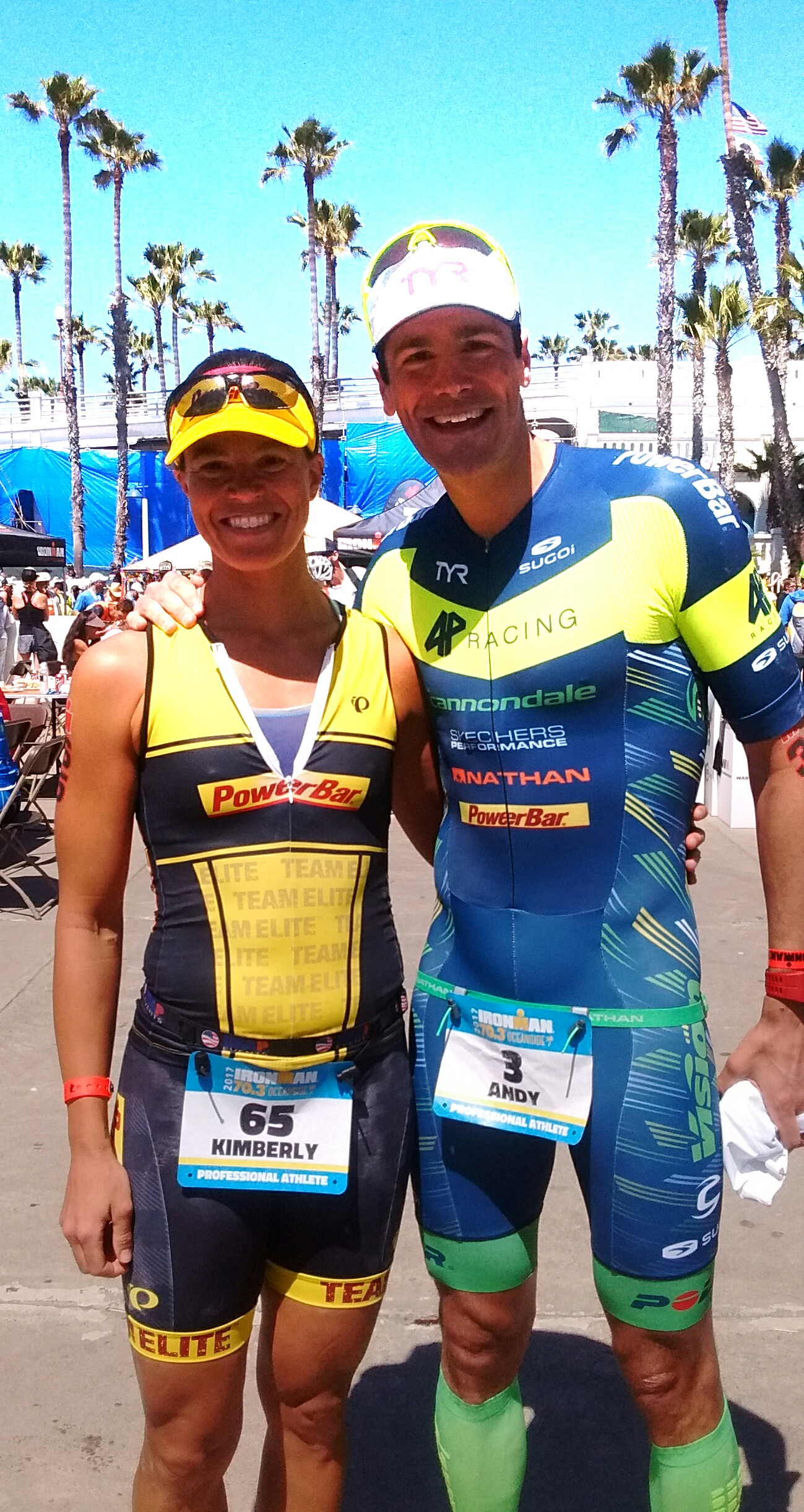 In 15th place, I was nowhere near the prize money, but I felt like a million bucks.
And post race I even got to hang out with the most photogenic man in triathlon: Mr. Andy Potts.
Next up: IRONMAN 70.3 Santa Rosa!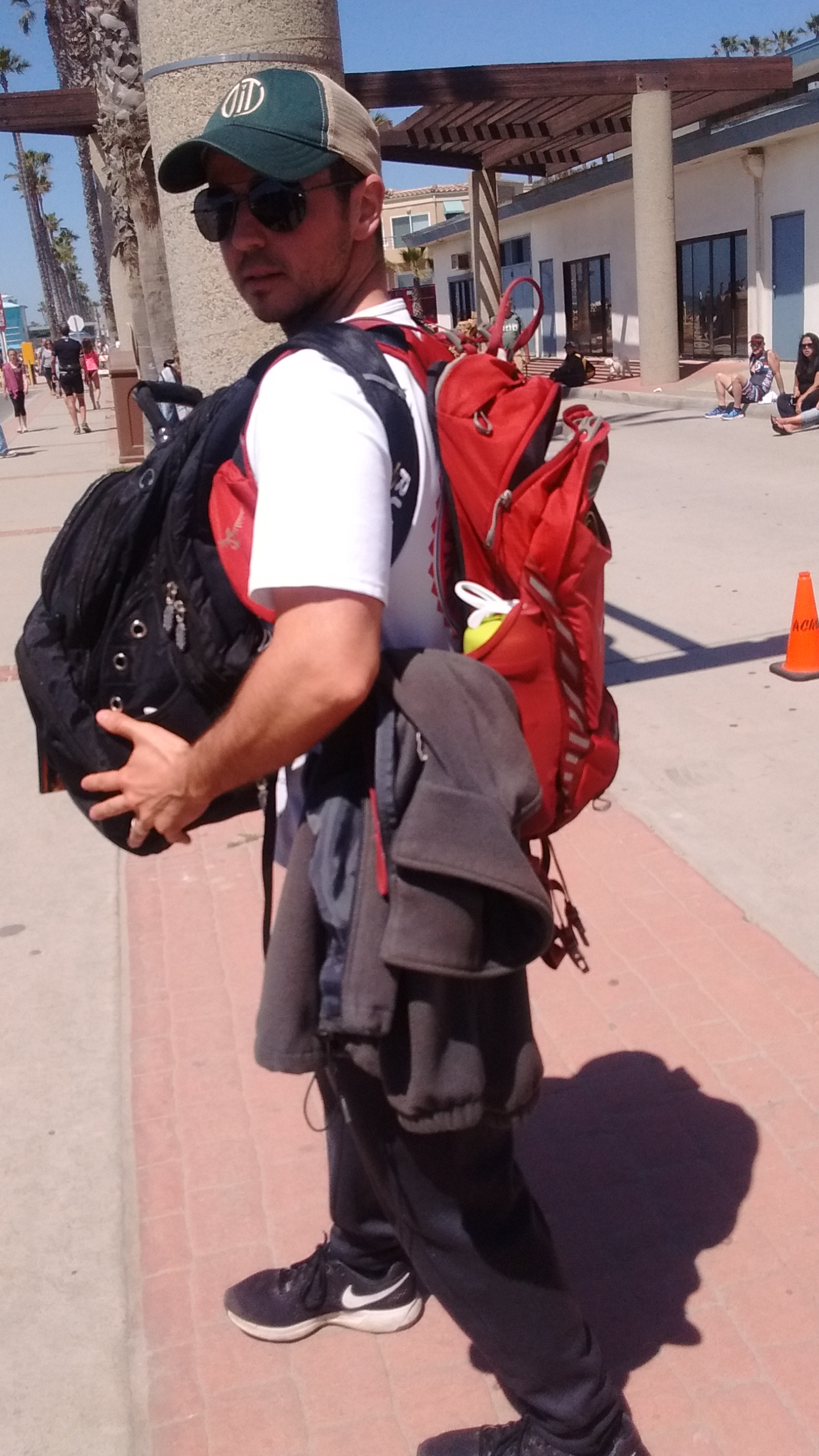 Long walk from finish line back to Transition. T

oo tired to carry my stuff. Thanks, Brad!