Last month I was supposed to drop out of the Ironman. But I thumbed my nose at the plan to DNF and then guess what happened at my next race?
The DNF gods went ahead and took the sacrifice I owed them.
July 9th was the Boulder Peak Olympic, a race with a long history of big time pro champions, and famous for its brutal climb up Olde Stage Road.
And I didn't finish it.
While perhaps an unremarkable turn of events in the world of competitive racing, this was unique for me, in that it was my first time.
I've completed more than 80 triathlons. If you add to that total all the 5ks, 10ks, half marathons, marathons, trail races, bike races, aquathons, etc – I've cruised through that glorious finish arch (or over that chalk line on the pavement) well over 200 times.
If you add to that total all the times I've climbed up on the starting blocks at a swim meet and reliably completed the 50, 100, 200, 1500 yard race… OK maybe swim meets don't really count, because who DNFs a race that's only a minute long? (I mean, besides Mateo, the hero of the Ygnacio Valley High School swim team, who, on the historic day the phrase "WTF?!" was invented, swam 75 yards of a 100 yard race, and just got out at the other end of the pool. Something I've never seen happen before or since).
My point is, for over two decades, I've had a 100% success rate when it comes to finishing races. I'm obsessed with the irresistible pull of the finish line, perhaps to a fault.
I had observed a long time ago, with some bewilderment, that pros had an unusually high rate of DNF, despite their obviously superior level of capability. Was it vanity? "If I'm not the winner, I don't want to play!" Was it decadence? "Races? I've got a million of them, who cares?" Or were they perhaps going so insanely hard that they reached that point where limbs start flying off their bodies and they lay broken on the side of the road while age groupers trotted past?
I simply couldn't conceive of what possible reason there would be for surrender.
(I'm sure there's a lot to unpack there, because this mentality doesn't stop at racing for me…)
It seemed I was incapable of separating the concepts of "unfinished" and "failure."
In light of this, Sunday's race was a major breakthrough for me.
I was well prepared and appropriately pumped for the Boulder Peak. Even with half the population of Boulder badasses out on pregnancy leave, the roster had still filled out with some top names. Kaisa Sali had gone 5th at Kona last year. Paula Findlay was a 2012 Olympian. Alicia Kaye was a name I remember from the magazines back when I was still racing on an aluminum commuter bike. I wasn't going to be able to fight them for the podium, but I hoped that in the presence of greatness, I could perform to the best of my abilities and show some definite improvements in my own racing.
As the sun rose over the Boulder Reservoir, we lined up on the beach: eleven strong, confident women. There was some sort of glitch with the playing of the National Anthem, and while we waited in the awkward silence, Paula filled in with her national anthem, "O, Canadaaa!…" Haha, nice cover. She seems fun, I'd totally hang out with her. (But I guess I'd have to catch her first).
We got to start the race with a mad dash into the water, splashing and dolphin diving and sprinting. Swimming is great. I was perhaps enjoying it too much, based on my mediocre pace. I still need to focus on more work, less play when it comes to the open water.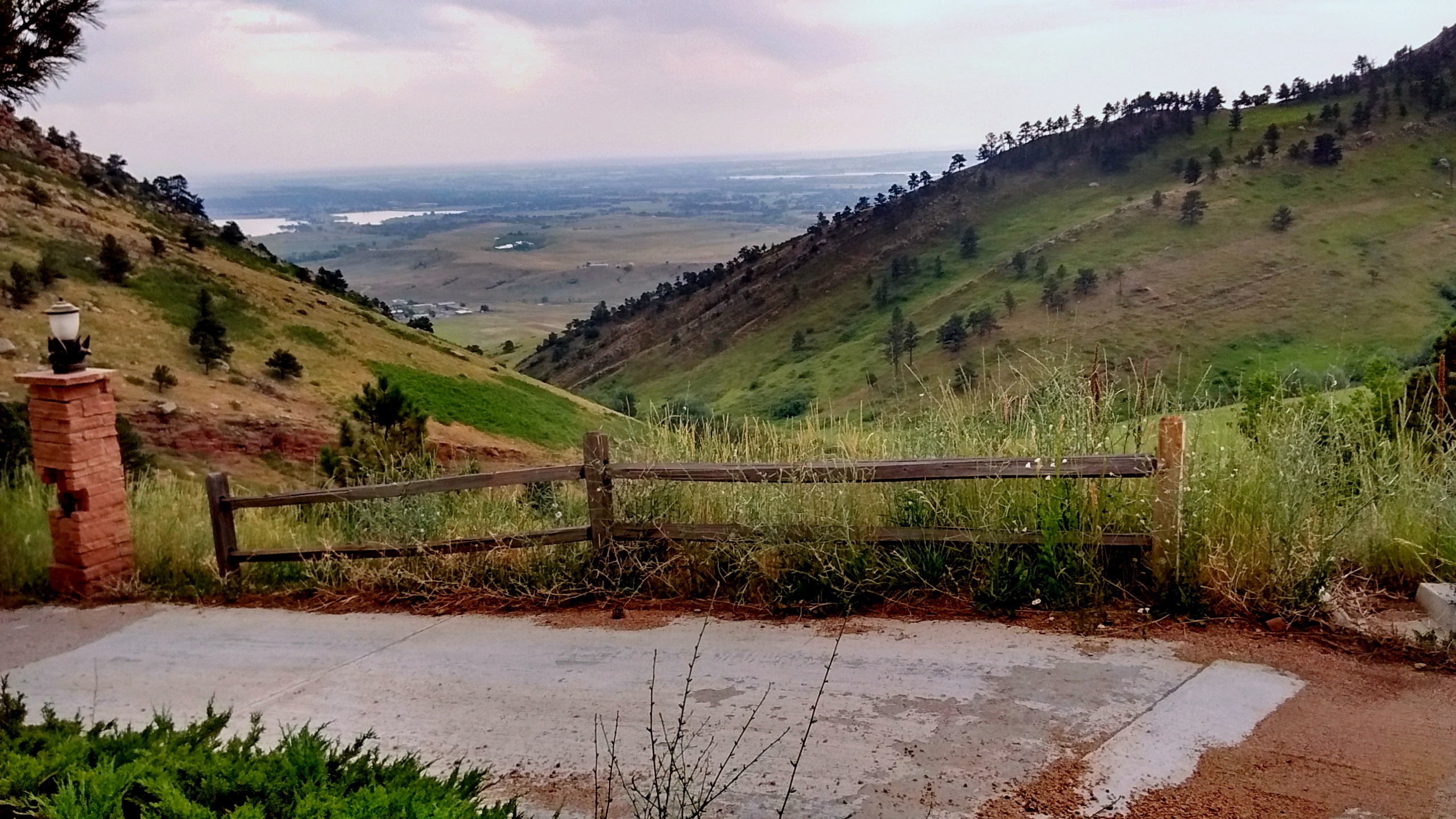 The view from the top of Olde Stage Road, that I did not stop to enjoy.
The bike went better, and by better I mean it was appropriately painful. I was hitting my heart rate and power targets, pushing hard, and when I got to Olde Stage Road, I dug deep and charged up that long, steep climb with everything I had. The descent had me topping out at 46 mph, which was thrilling and scary, and not legal for the age groupers, so I passed a few of the fast guys that had caught me on the climb.
Then it was on to the fun part of the course. I ride this route all the time, so it was familiar, and I knew what kind of speeds I could maintain out on those flat (ish) farm roads.
I was holding a strong pace, but my heart rate said I had a little more to give, so I pushed harder, fighting back against my body's assurances that this was plenty hard enough.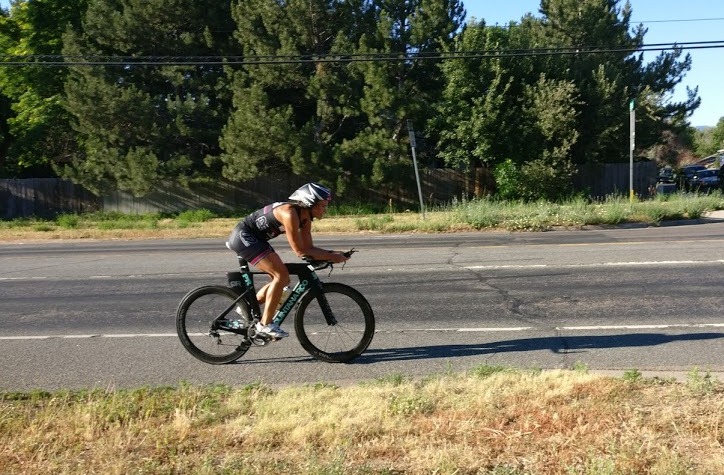 Just then, a sudden sharp hiss, and my front tire went immediately flat.
Fortunately, I had actually brought a spare, even though I had previously declared it was useless. I had put a new tube in earlier that week, and it took me well over half an hour just to get the tight tire back onto the wheel rim. After that epic battle, during which I almost lost a few fingers, I decided it was a waste of time to bring any tire change gear with me at all. "I could probably walk back in less time than it would take me to change the damn tire!" I said bitterly. Thankfully, I did not test this theory, because I got that flat twelve miles from T2, literally the furthest away spot on the entire course, and walking twelve miles in bike shoes probably would have really sucked.
By some bizarre miracle, this time the tire slipped right back onto the rim, making the tire change go fairly quick, all things considered. As I rejoined the race, I decided to push even harder and see if I could catch anyone who passed me. I did catch one or two, and I was right back on target with my power goals, averaging close to 25 mph for the second half of the ride. Nice! Maybe this race was salvageable after all…
Next it was on to the run course. Hot, unshaded, mostly unpaved, and for the pros – three laps of two miles each. The first mile was decent, I was shooting for 6:30 and I basically nailed it, but after that, the wheels came off. My pace got slower and slower, I could see how far ahead everyone else was, and then Lindsey Jerdonek (the eventual second place finisher) lapped me. Even though I was ridiculously far behind the rest of the field, I guess the secondary goal was to at least throw down a solid 10k. But clearly that was going to take a miracle, especially if I had to make up for my lazy Mile Two. I realized my heart wasn't in it. That four minute penalty that the flat tire cost me had taken the wind out of my sails, and my past 10K PR has the bar set pretty high. The only way I'm going to match my own record is by running with 100% commitment, and it just wasn't there. So that left me with the option to suffer on through another hot, miserable four miles to produce a mediocre 10K and a finish time I'm not proud of, or to just… stop.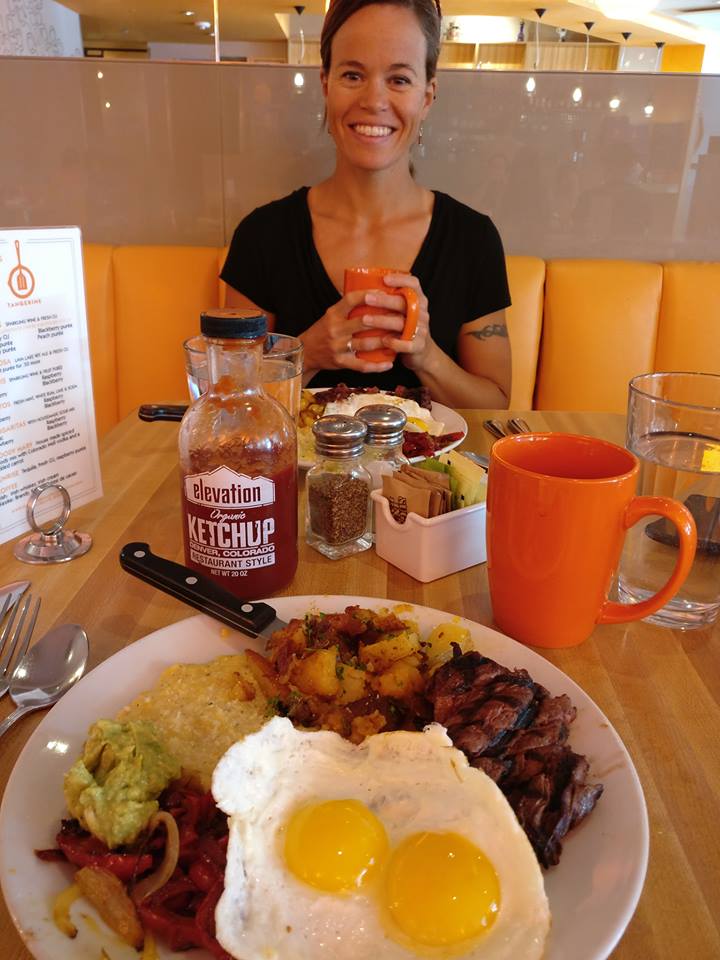 It was a weirdly liberating decision.
As I completed the first lap, I veered off the course, and removed my timing chip. The official who solemnly took it from me appeared ready to give her condolences, and I played along with the appropriate sad face. As soon as she was out of view, I bounded away with the joy of my newfound freedom.
Since Sunday is normally my long run day, I decided it was time to get back to regular training, so I changed out of my race shoes, and headed out the reservoir gates to do ten miles on my own terms. My pace was good, I felt great, and it was one of the best long run days I've had in a long time, a workout I could really be proud of. Afterwards, Brad and I went to brunch at Tangerine, which (as always) was amazing!
Later in the day, as I was still basking in the glory of my first DNF, I recalled back to the last Olympic distance race I did. It's been awhile, over a year, and I had to laugh a little when I realized which race it was. I wrote a race report on it at the time, but never published it, because it was too angry, and that's just not my style. But in a nutshell: I had really been gunning for a best bike split, and I left it all out there on the course, only to find out that due to a handful of tardy volunteers, the bike turnaround had not been set up, so a few of us at the front of the race had inadvertently done several miles of extra credit before realizing we were off course. I had tried to channel my fury into a 10k PR, but missed the mark by a long shot, and incidentally, also missed the turn to the finish chute because spectators were blocking the view of the cone line that veered sharply left. The final line of that race report reads, "So there you have it, crap frosting on a shit cake."
Maybe that was a day that I should have just turned in the timing chip and enjoyed a peaceful long run on my own. Because apparently, there's more to life than the finish line.