Scott Tinley's Long Course was my final, final season finale.  Yes, I know I'm supposed to be done racing for the year, but this one was non-negotiable because I had a specific agenda:
To win the Goodwell Fitness Tri Club Championship Series.
The contest is in its inaugural year, and the two main objectives are to score club points and to score individual points. With one event left to go, the Silicon Valley Tri Club was in a tight race with Triathlon Club San Diego and Golden Gate Triathlon Club, and we needed as many racers as possible to show up in San Luis Obispo to secure the win. I took this assignment very seriously.
Additionally, in the competition for individual points, I was in the top three, and the stakes were high: the first place prize was a Fitness Adventure sponsored by Goodwell Fitness and Alaska Airlines. This included round-trip airline tickets for two, a two night hotel stay, and a race entry fee at the destination of your choice (U.S. & Mexico). Holy crap! A dream come true!
This was a no brainer.  Injured or not, I needed to be at this final race in the series. Scott Tinley's offers Sprint, Olympic and Long, with higher TCCS point values assigned to the longer distances. Long Course it is!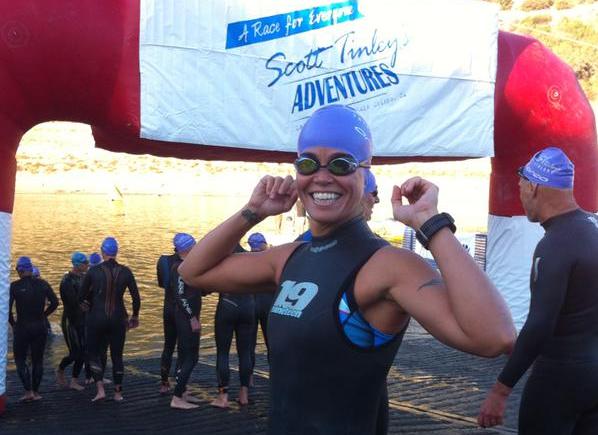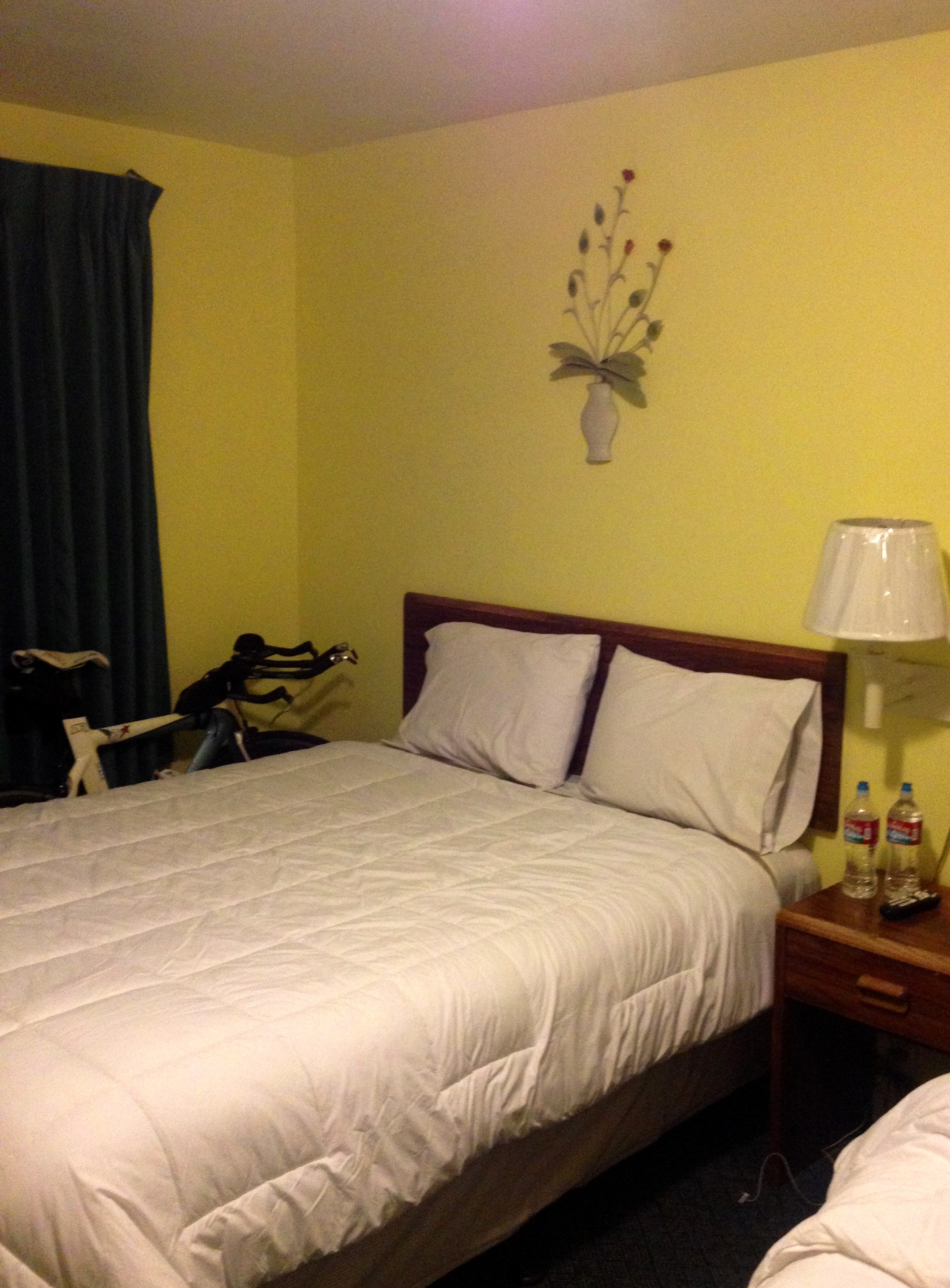 I combined forces with fellow SVTC racer (and club president) Carin, and last minute accommodations were hastily booked at a "budget level" motel in Arroyo Grande, just 20 minutes from the race venue at Lopez Lake.
The decor wasn't really my style, but at least the lampshades were still in the package.  Nothing worse than a stale lampshade.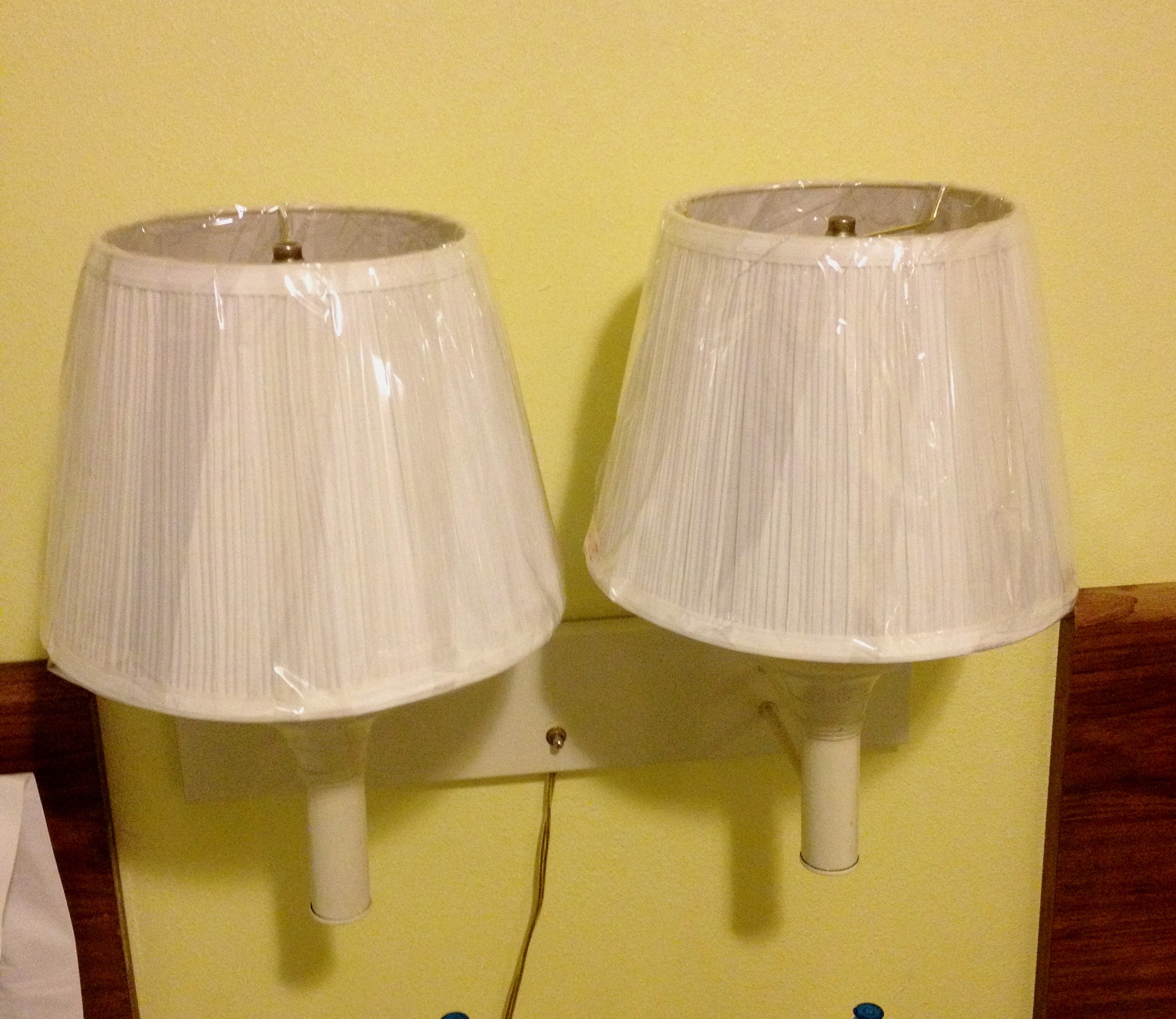 Ahh. Kicking up the feet after 5 hours in Friday rush hour traffic.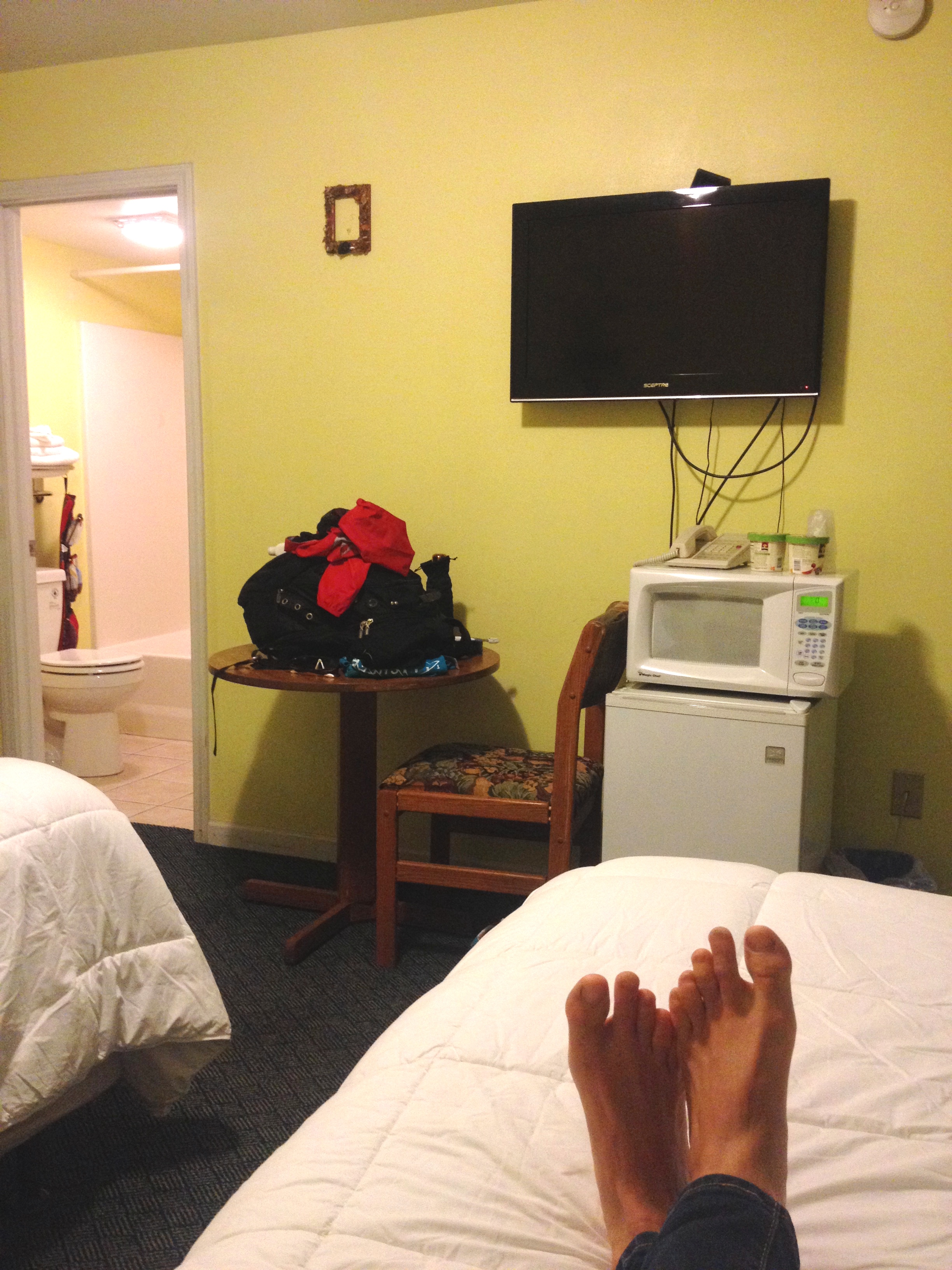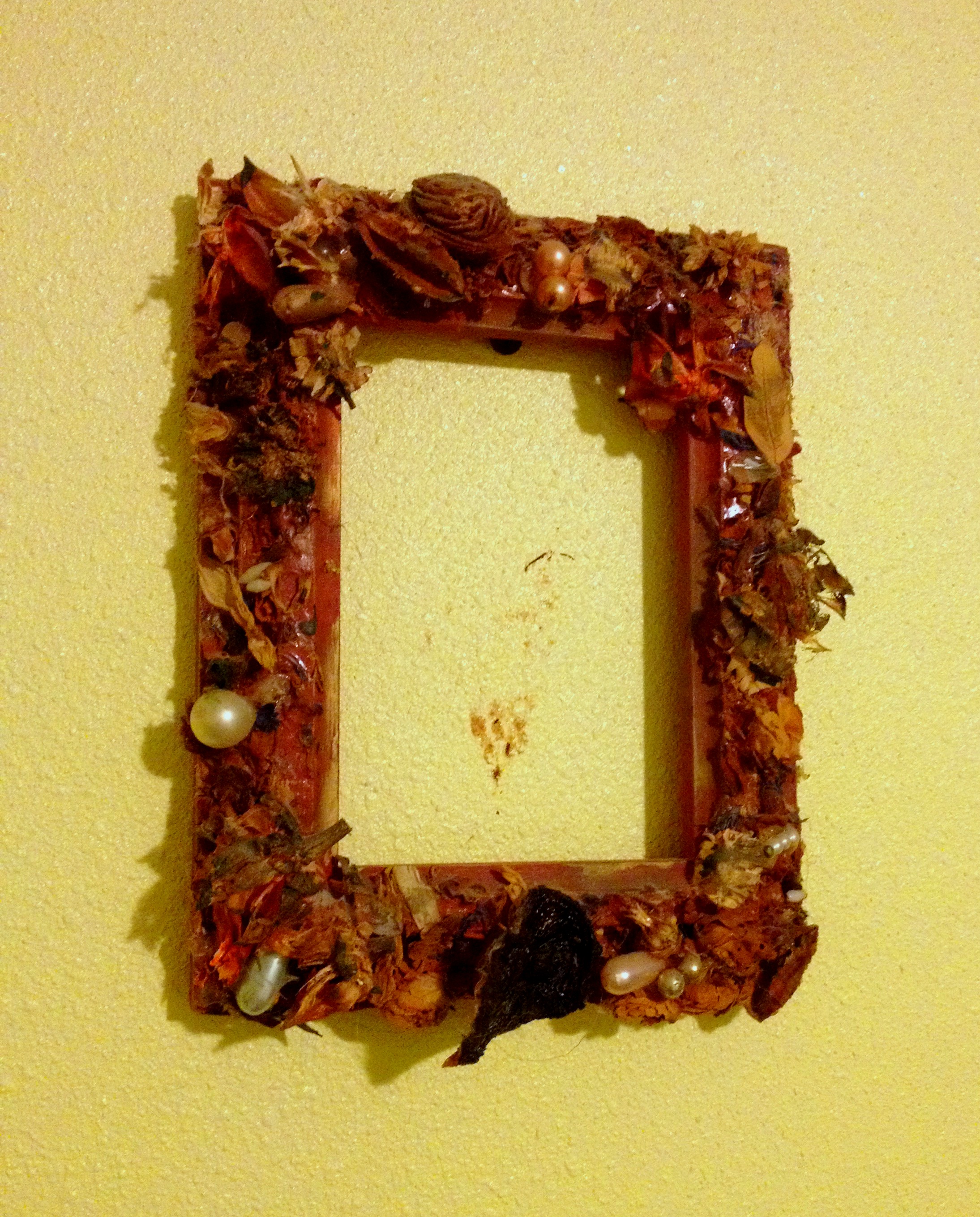 I've seen some unusual art in my day, but this piece is definitely one of a kind – a rarity when it comes to motel accessories.
A homemade frame, bedazzled with apricot pits, plastic beads and a rotting mushroom, featuring nothing but the yellow wall behind and what appears to be a smudge of dried blood. Wha..??
Oh well.
I'm not especially scared of voodoo, so I slept just fine.
Morning was great. I woke up before the alarm, a little stiff but ready to get to work. The drive to the lake was quick, and even with three race distances, the race is small (just over 200 participants).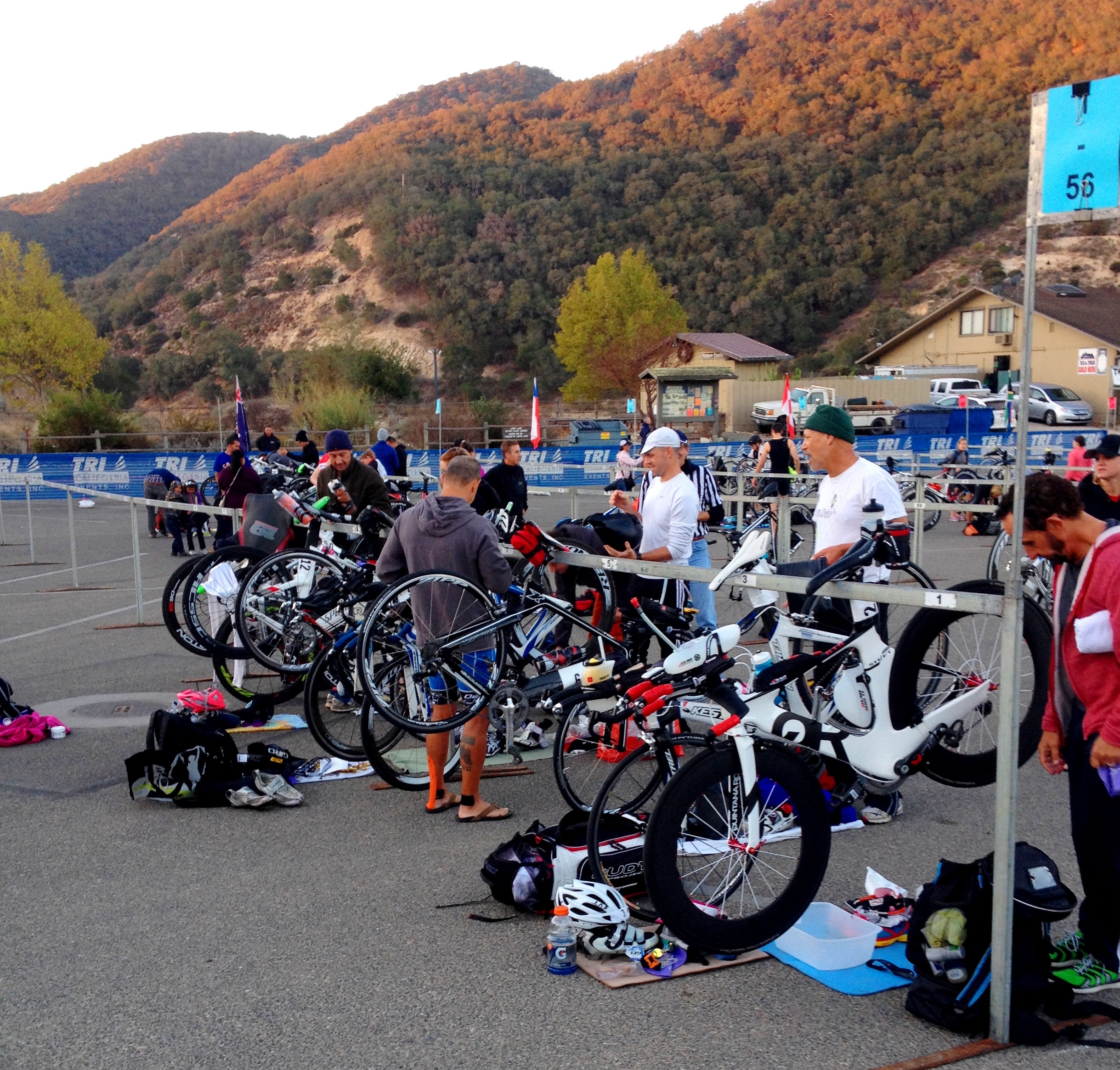 The entire long course field.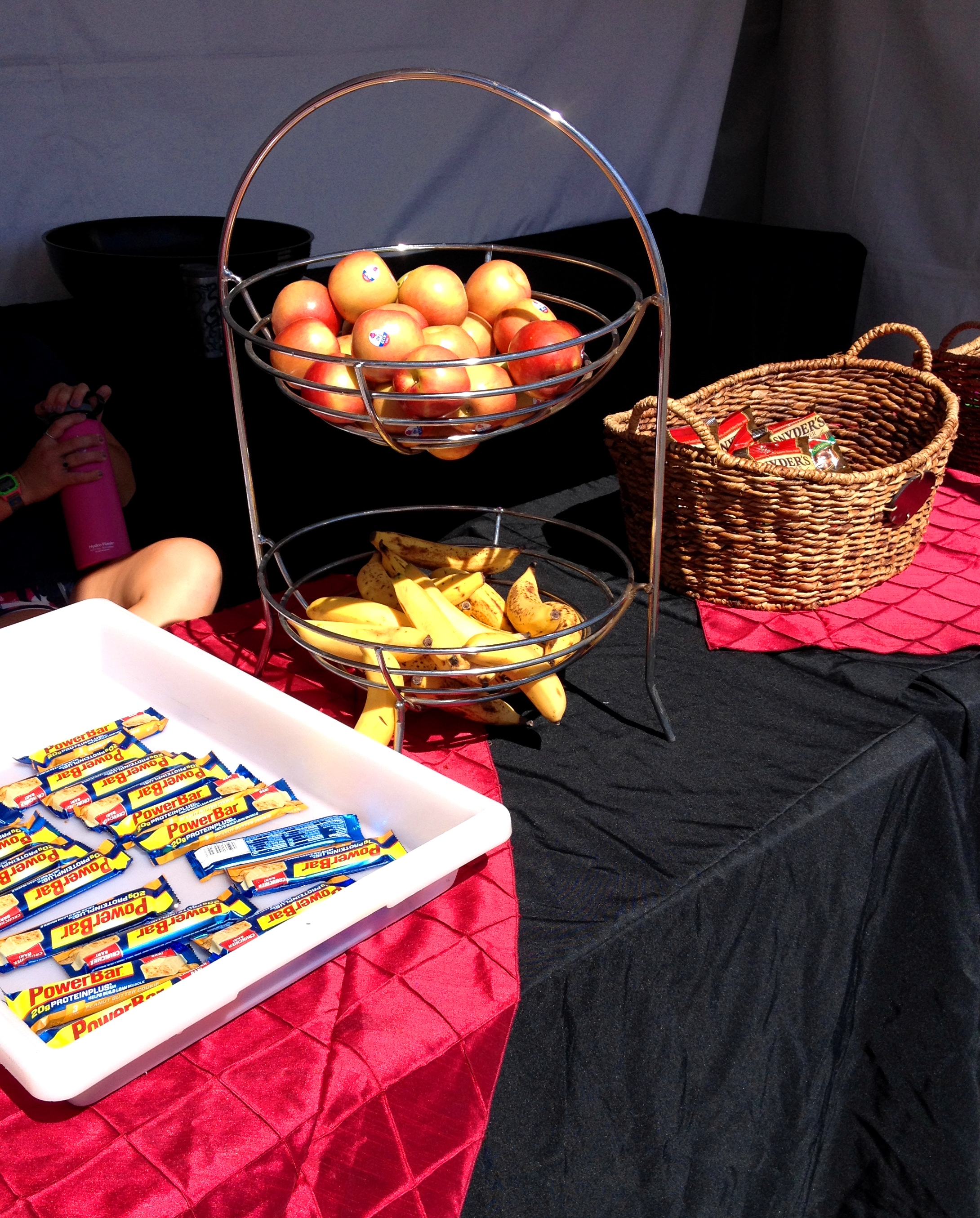 Post race snacks and fancy linens.
Here are ten great things about this small race:
Easy parking, in the same lot as transition
Race day packet pickup AND race day registration (for the ultimate procrastinator)
Spacious transition area, room to spread
No lines for the bathrooms, and the bathrooms were REAL! Like, in a building!
Guaranteed podium spots – at least for the ladies of Long Course…(spoiler alert) All three of us won our age group
Non-violent swim start. The whole Long Course field started together. Yep, all fifteen athletes in the same wave!
Customized greetings at the finish line by Hall of Famer, Julie Moss, moonlighting as a stand up comedian
Plenty of post-race refreshments, served up VIP lounge style #baller #likeaboss
Scott Tinley is actually AT Scott Tinley's!  He finished 14th overall in the sprint
Half price beer at the Lopez Lake Marina Bar & Grill if you say the magic word…
The long course format is non-traditional, which is why I refer to "Long" instead of Half or 70.3. The swim is longer than usual, at 1.5 miles. The bike is shorter, at 48.7 miles, and the run is only 9.3 miles. This doesn't exactly play to my strengths in terms of a speed advantage, but on the fun scale, I'd much rather swim longer in exchange for a shorter bike and run.
The swim was laid out as three loops of the pond they call Lopez Lake. The water was calm and the swim was pleasant, although as I rounded the final turn of lap #2, my internal cheerleader said, "That was fun! Shall we go for a third?!" and the immediate reply was "Eh. No thanks, two is good."
Too bad. Three laps it is! I got it done.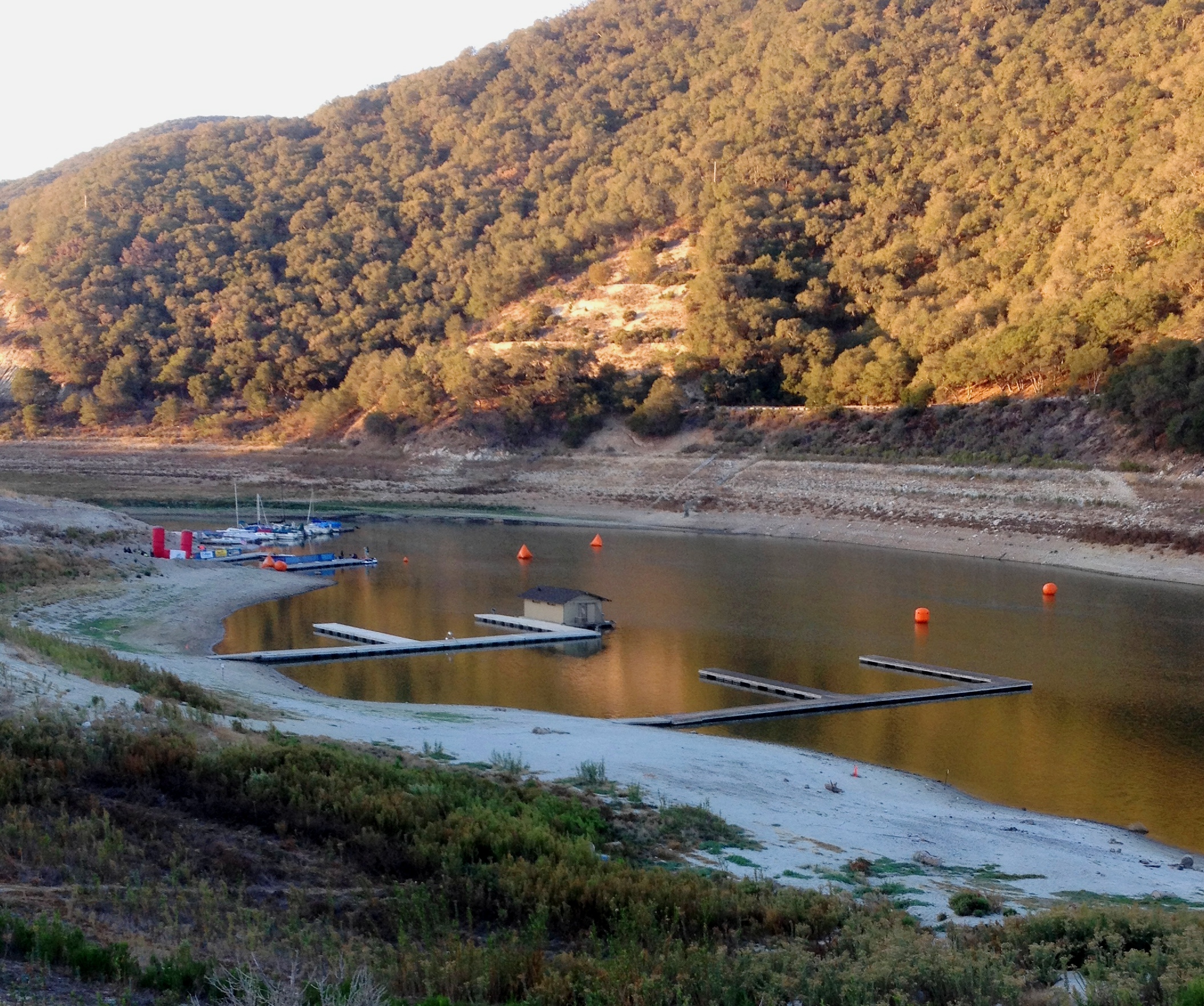 The swim was followed by a Wildflower-style ascent up a long steep boat ramp. You really can't fault the race for this, it's just that the water won't stay put.
The bike course featured a few good hills right at the beginning, getting out of the park, and then it leveled off into a delightful rolling route through serene pastures and an idyllic canopy of oak trees.  I had the roads to myself and was struck by the natural beauty of the central coast terrain.
The first turnaround was about 22 miles in, and I finally spotted the guy in first place…with about a 10 mile lead on me.  I immediately deleted "Catch lead guy" off my list of Things To Do Today.  But I was in third place, so perhaps I could turn in 2nd overall if my knee cooperated for the run.
As I rounded a corner, still chuckling about the volunteer dressed as a piece of bacon, a furry critter crossing the road up ahead caught my eye.
"WHAT?!" I hollered accusingly at its eight hairy legs.  But it never even flinched, so perhaps tarantulas can't hear.
…A TARANTULA?!
This is the lovely central coast of California, not some Indiana Jones undiscovered, booby-trapped, tropical island. How can it be that a five pound, man-eating spider is just roaming the streets?!
Though I've never seen one of these critters outside of captivity, I suppose on some level I knew that this wasn't the single escaped spider from the local zoo. When I spotted the next one, rooting around in the underbrush by the side of the road, I was startled by someone shrieking like a girl…which turned out to be me.
OMG. They're everywhere.  Get me out of here!!
Then it occurred to me that spiders can climb trees. Perhaps the trees above me were full of them, lying in wait.  I imagined the John Hughes movie version of my race; the hilarious but improbable scenario of the furry monster dropping from a tree, landing on my face, sending me spinning out of control and squealing like a banshee as I swerve off the road and tumble head over heels, 'Oof, Ouch!' into a ravine…much to the delight of a target audience of ten year olds.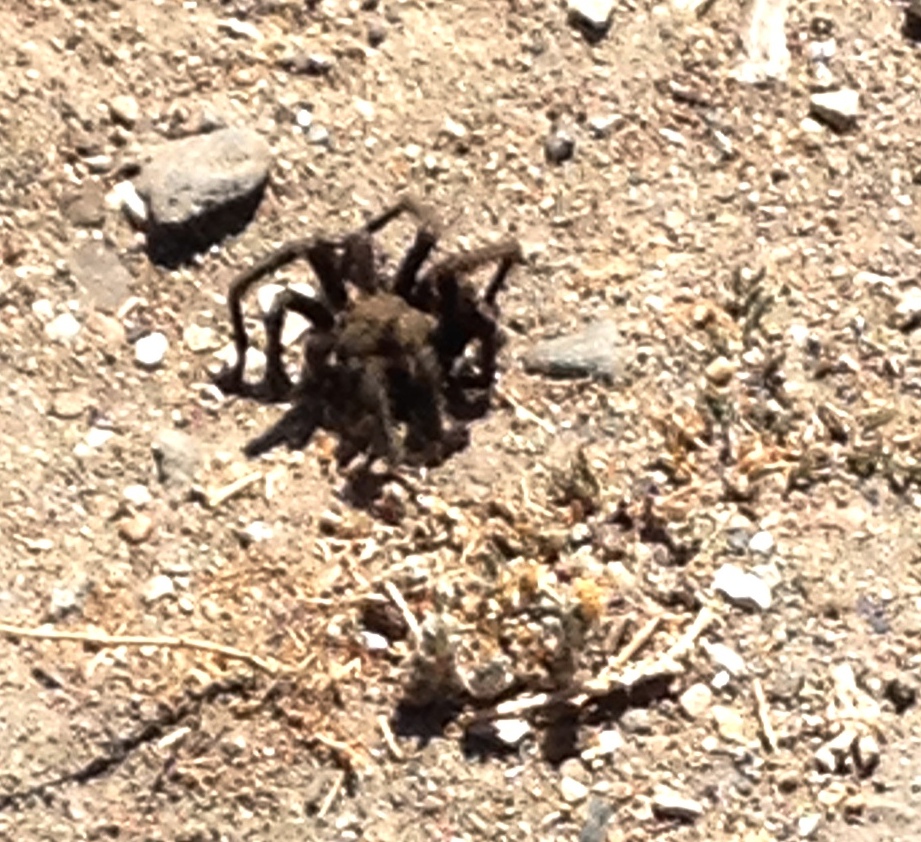 Well that image certainly lit a fire under my ass…
But I don't know what refuge I hoped to find back at the race site.  As I descended the final hill towards transition, paralleling the run course, I saw another eight-legged beast scuttle across the path in front of a runner.
I was probably safer on the bike.  Now it was 9.3 miles of running in the tarantula's house.
I delivered my usual record fast T2, then headed out on the run, desperately fighting the urge to charge it into top gear. Most of the run was on paved road, but it was a lot of little hills (plus one really big one) so I think that tricked my ornery knee into thinking I wasn't breaking any rules.
A snake slid across the path just in front of me, and I shrieked again, this time out of delight. Because I'm pretty sure snakes eat spiders… don't they? Actually, I guess I'm not sure who would win in a snake v. tarantula match-up. (Whatever. You will never find me camping at Lopez Lake. I'll stick with the voodoo motel in Arroyo Grande).
I restrained myself on the first lap of the run, then opened the throttle on the second lap… which I ended up running at exactly the same pace as the first lap.
My run brought me home in second place overall, first of the women.  But more importantly, I didn't get ate by a giant spider, AND Silicon Valley Tri Club locked in first place AND I won the TCCS Grand Prize! Win-Win-Win, YEAH!!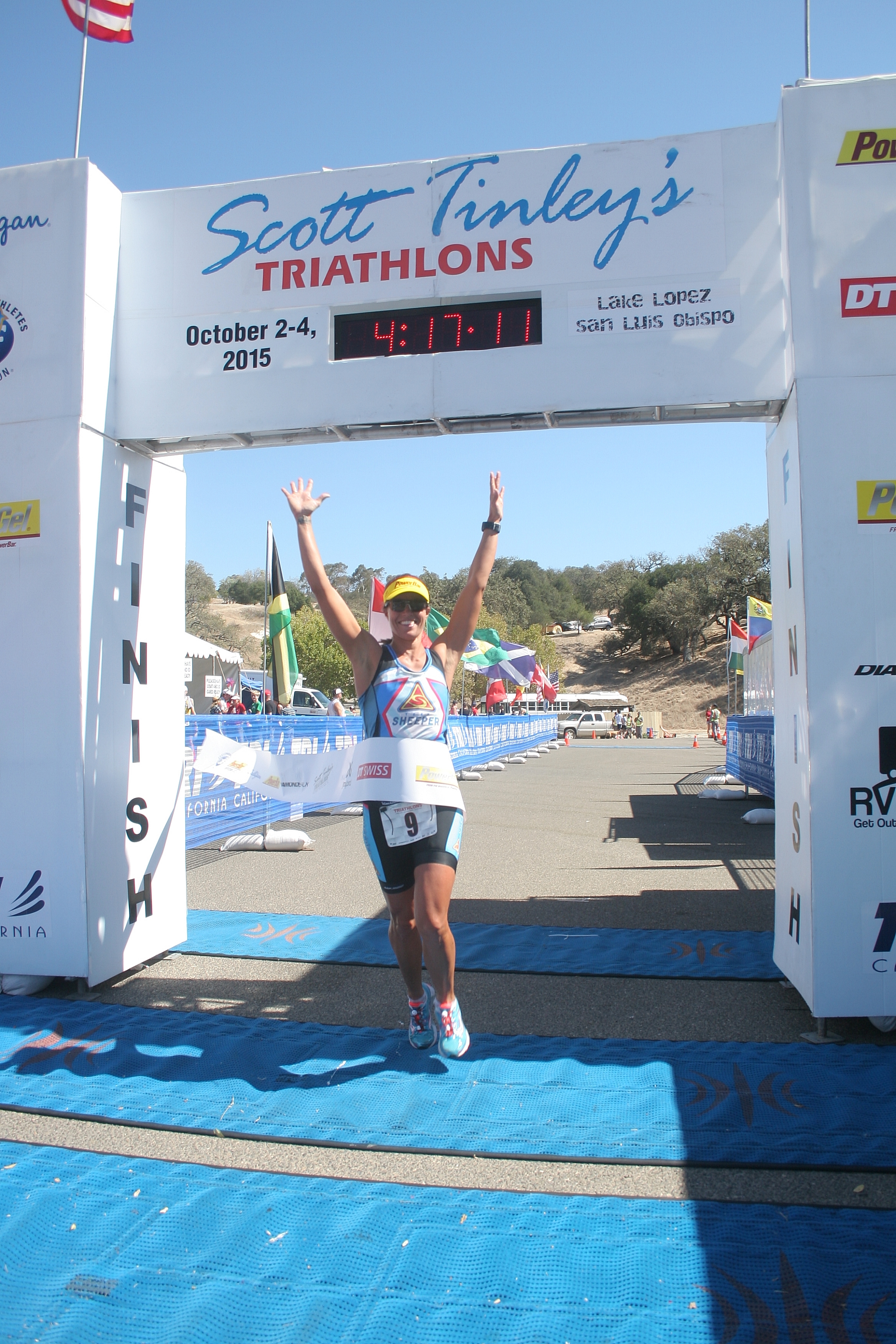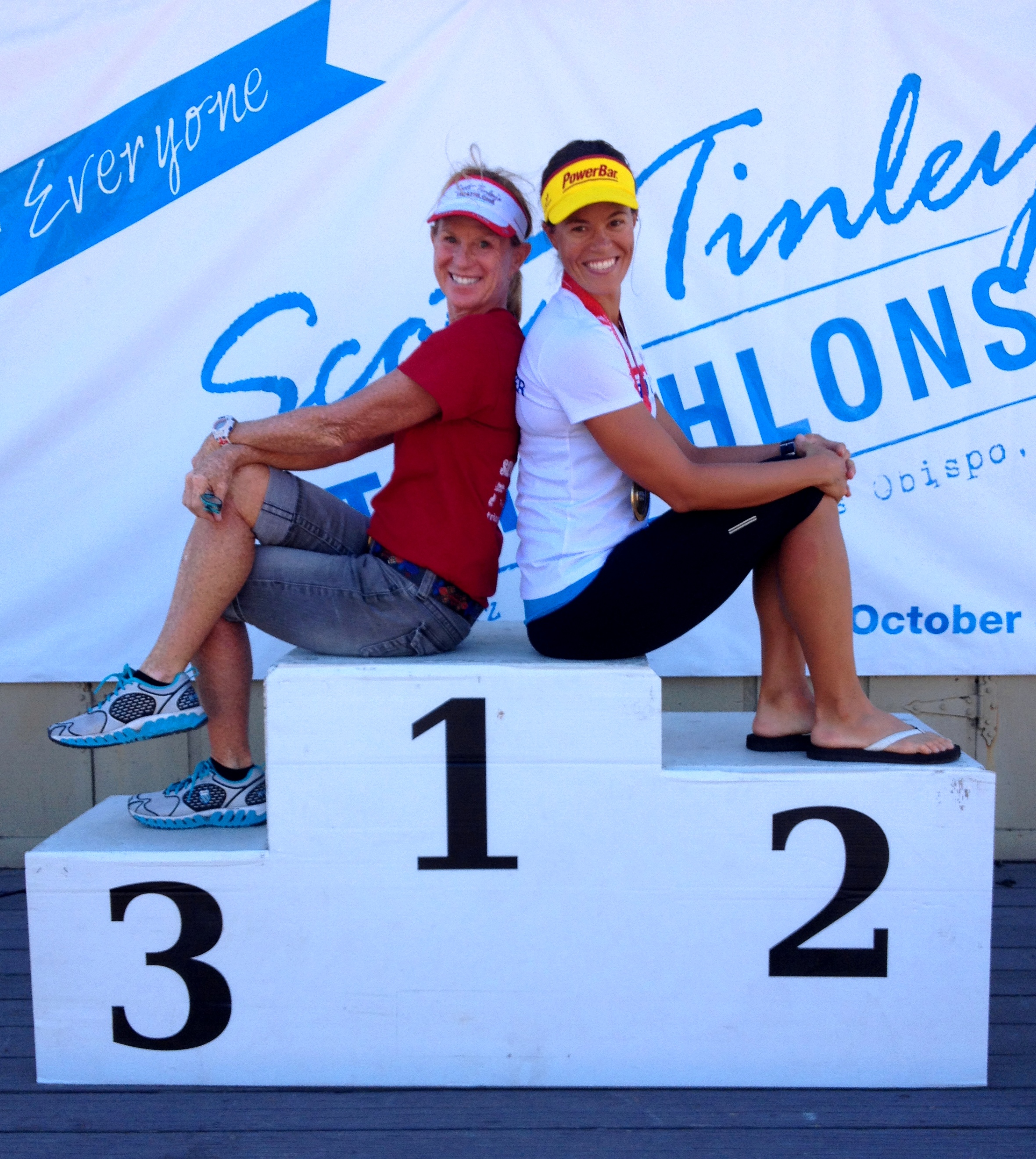 Me and Julie Moss goofing around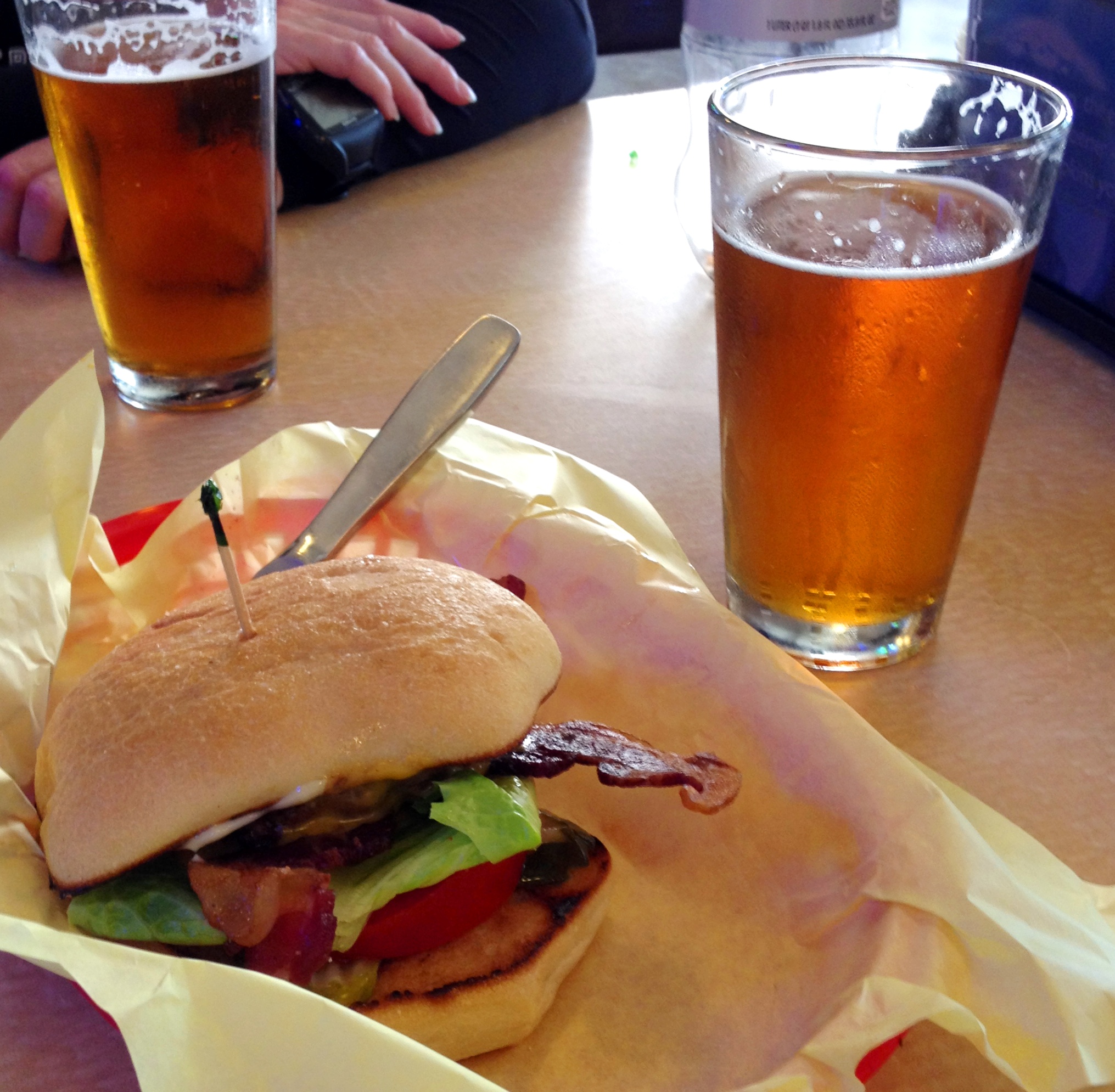 Bacon and beer.  Looks like Off Season to me!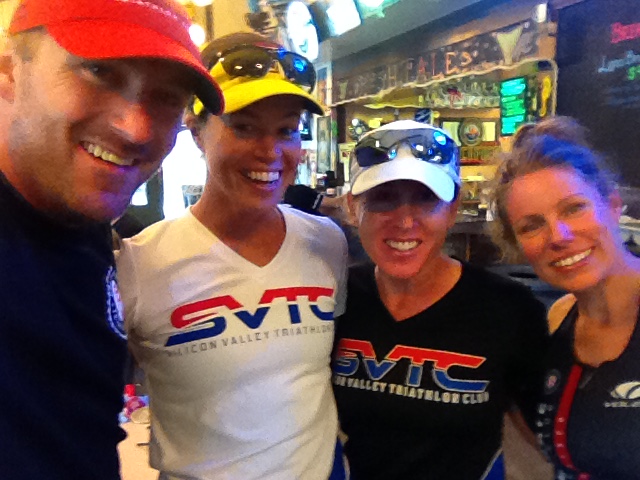 Fraternizing with the competition: Golden Gate Tri Club knows how to party!
** Extra special thanks to Goodwell Fitness, Alaska Airlines, SVTC, Carin, Ron & Carrie!