I wanted to ride the wave of enthusiasm coming off Oceanside for as long as possible, but Recovery Week led straight into a head cold, which then led right into the news of our upcoming relocation to Colorado, and training had to take a backseat as Brad & I scrambled to pack up our life in San Jose and replant it in Boulder. I had just barely gotten used to the altitude when I was already back on a plane to California, gearing up for the new edition of Vineman, the inaugural IM 70.3 Santa Rosa.
I was pretty sure I had resolved my bike issues by getting some adjustments to my cleats, but there was only one way to find out for sure.
My expectations for this race were lower since life had been so hectic leading into it, and I embraced the opportunity to race "for fun," approaching this as just another building block in my development as an athlete.
This turned out to be a good attitude to have when on Friday morning, as I was packing the car to head to my athlete homestay, I received the news that my host accommodations had fallen through, and "we have no other options for you, sorry."
"Again?!" Brad exclaimed in exasperation.
I had to laugh thinking back on the Airbnb host who had cancelled on me just two weeks before IM Santa Cruz two years ago. At the time, with all the pieces perfectly in place for my 2015 "A" race, this was a horrifying disaster. Hotels and accommodations for the flood of IM athletes and spectators always get snatched up many months in advance, and trying to find a place just two weeks before an Ironman event is near impossible. Two weeks! I was freaking out about 'only' two weeks notice?! Ha. …How about two hours notice?
At first I considered exchanging our rental bean for a larger SUV or van that could accommodate some sleeping bags in the back. But as it turns out, I do have relatives who live relatively close to Santa Rosa, one of whom was awakened early Friday morning with this phone call: "Hi Garik! It's your cousin Kimberly. Would you by chance have a couch I could crash on tonight? I'll be leaving about 3am, I promise I'll try not to wake the baby…" And would you believe it, he said yes!
Because Goodells Rule.
But everyone knows that.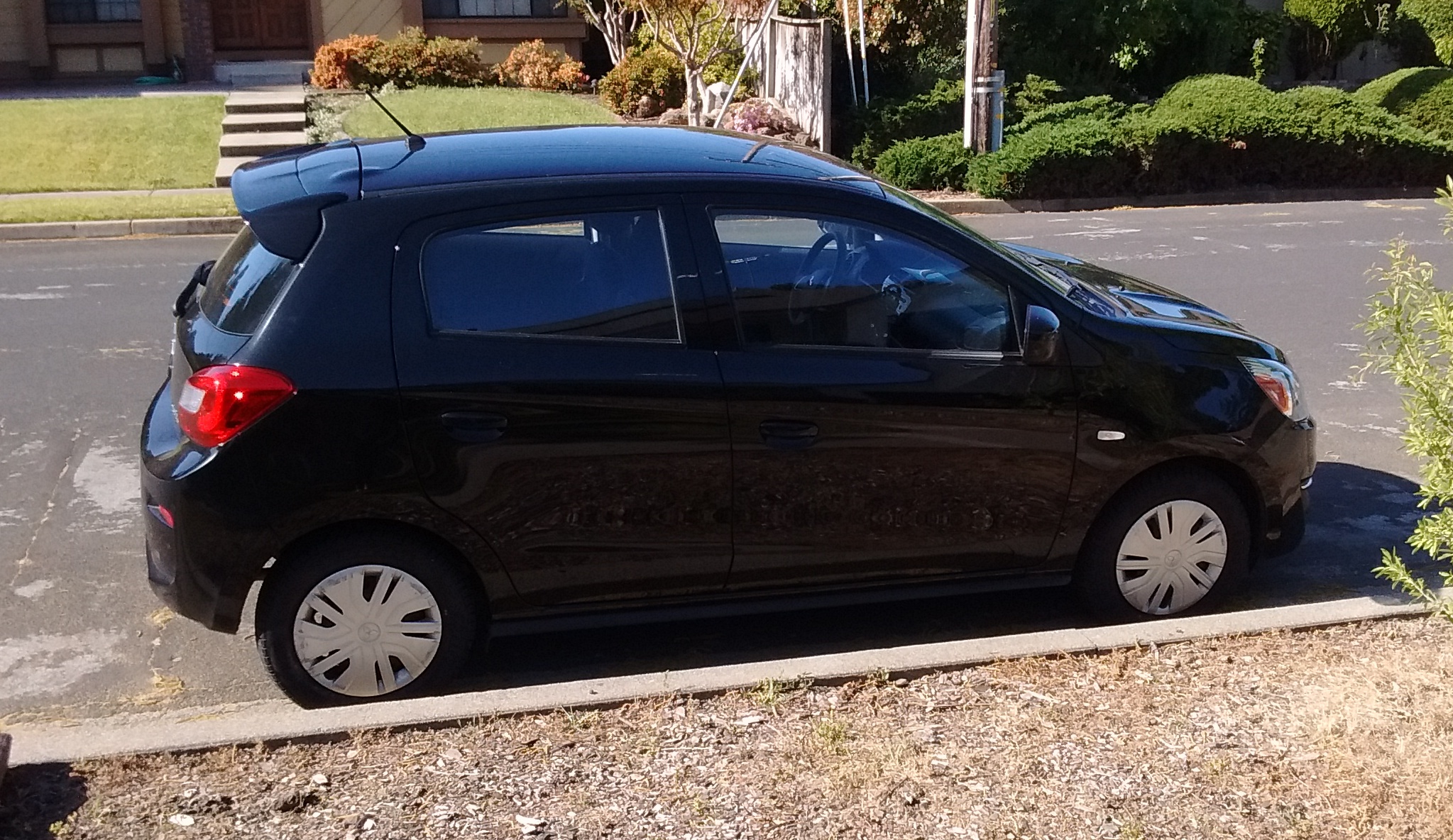 The bean I rented for the weekend. 

I fit a bike in there, yes I did.
The rest of Friday was a logistical maze, negotiating the crowds in downtown Santa Rosa to check in / drop off T2 gear / get thoroughly briefed on the course, then driving 30 miles north to negotiate crowds at Lake Sonoma where the T1 bike drop off was located. (Side note: Tri Bike Transport offered a bike shuttle service to save this last step, and in retrospect it DEFINITELY would've been worth the $40. I used their services to ship the bike back to Boulder after the race, and it was so delightfully convenient to just pass the bike off and continue on my way! I highly recommend taking advantage of this option any time it's available.)
After all that set up, the race seemed like the easy part.
Race morning was even more crowded, with the bulk of the 3,000 participants shuttled in on school buses, a glorious 45 minutes spent stuffed into bench seats made for humans with very short legs. Transition was clogged with long lines everywhere, at gear check, at the bathrooms, even just getting in and out. I found myself snaking through the crowds down the boat ramp and sliding into the water to join the hot pink caps of the pro wave just as the announcer said, "Ninety seconds to go, ladies…" Without adequate time to get around to worrying about the race itself, I was never even nervous, and before I really knew what had hit me, I was swimming.
The swim was good fun, and I had my little trailing group of swimmers with me, fingers brushing my feet every so often and reminding me to stay on task as the pack lead. I emerged with a group of 4 or 5 women, and we began the slow motion trot up the steep boat ramp. It was a long ramp, followed by a tour of the perimeter of that expansive transition area, and I used the opportunity to pass a few women who evidently had more sensitive feet than me. The pavement was rough and rocky, but my numb feet didn't mind a bit, and I needed a head start on that bike. I outran Sarah Piampiano for probably the only time ever (she can throw down 6 min miles no problem, and her sub 1:20 half marathon split later in the race outpaced the rest of us by over 5 minutes!)
The morning was chilly, so transition was slower than usual with the addition of a few extra layers. I got out ahead of a few of the women, but it didn't take them long to catch me. I wondered how long it would be before the swarms of age group men would show up. I had the course mostly to myself until mile 10. I made the arbitrary goal that I wanted to make it to mile 56 before 56 people passed me (not that I had much control over that either way) and Hooray!, I succeeded by a long shot! The course was winding and rolly, with lots of quiet farmland and vineyard views. Somehow I managed to smear my sunglasses with something sticky during transition, so my view the entire ride looked like this: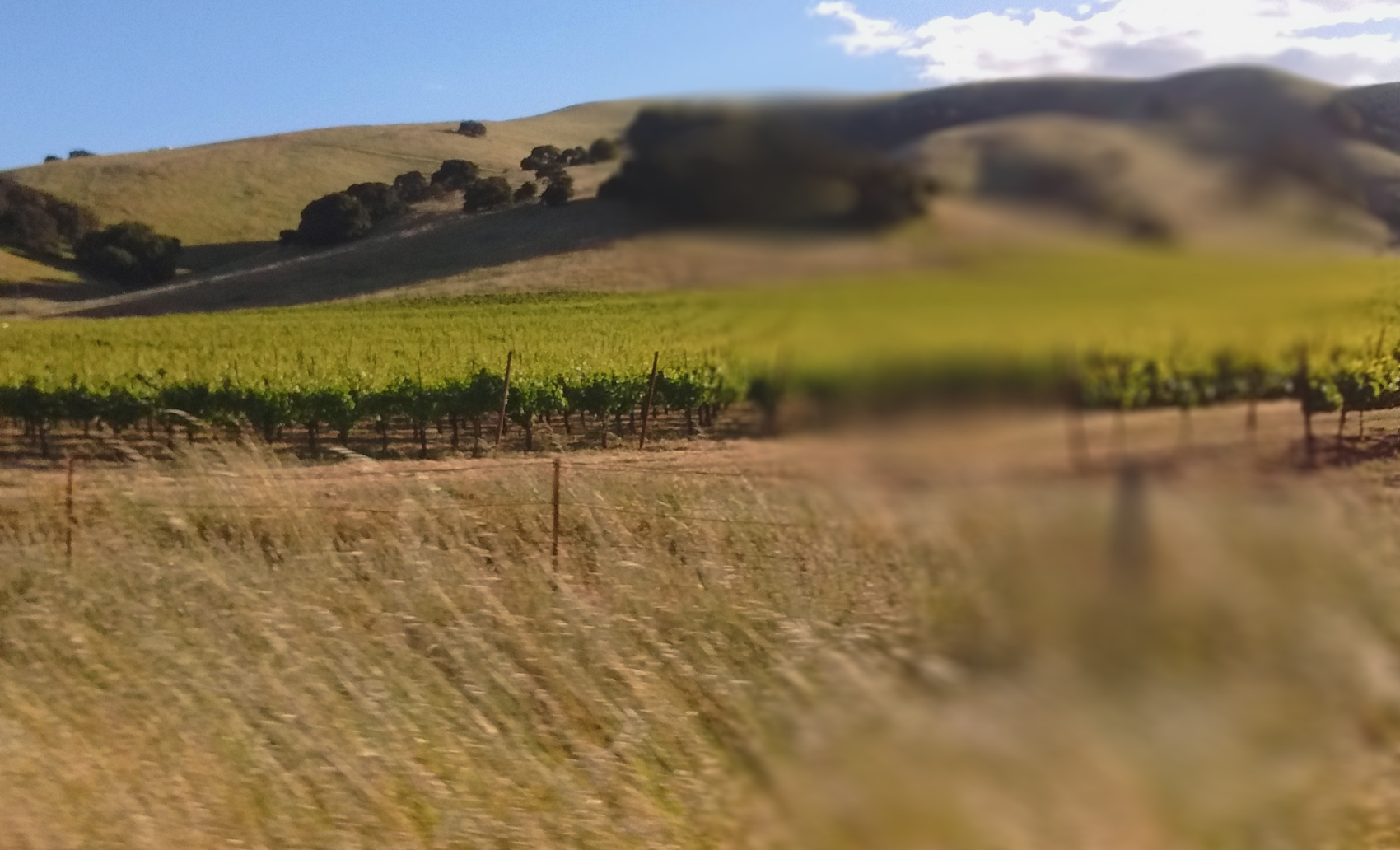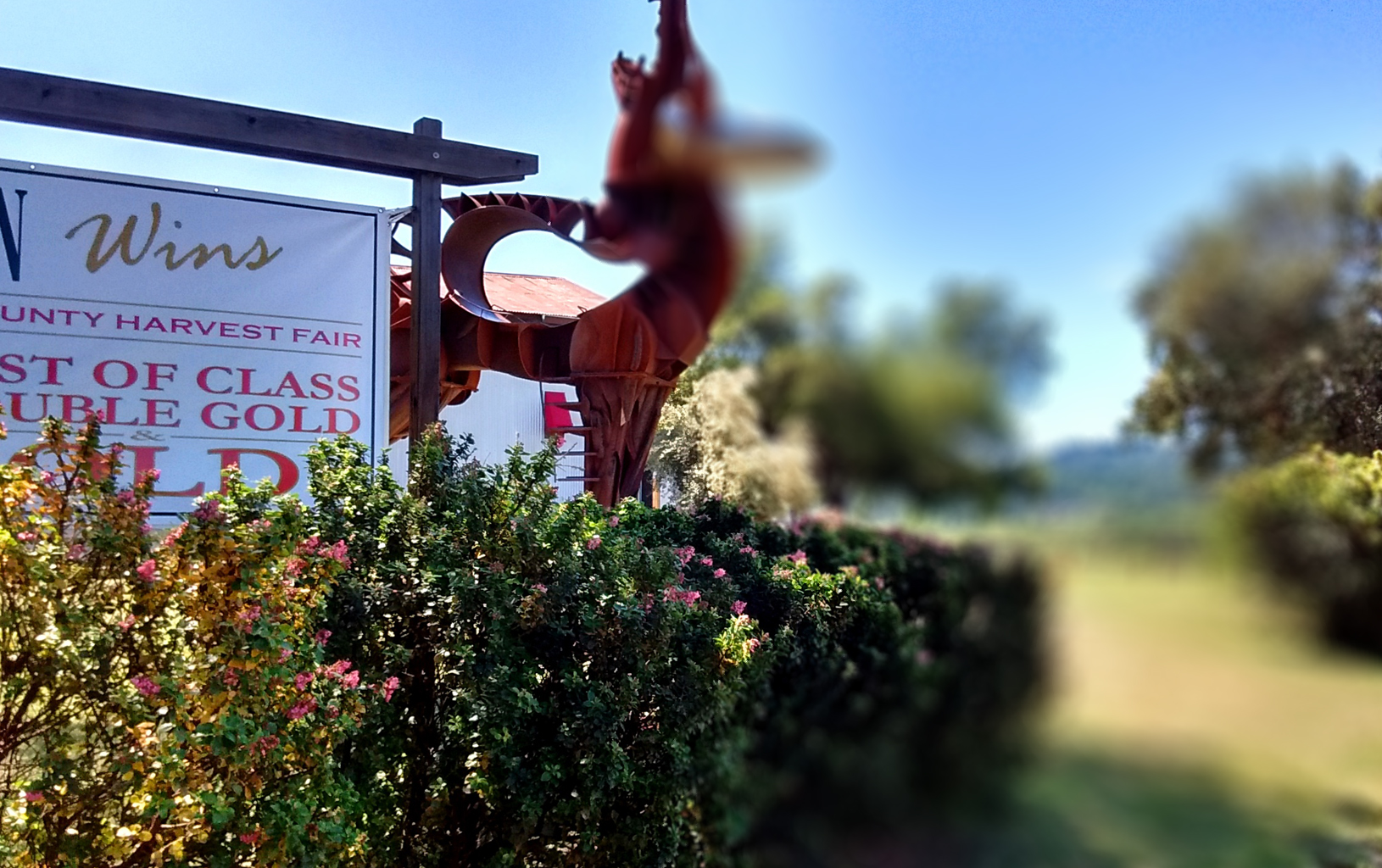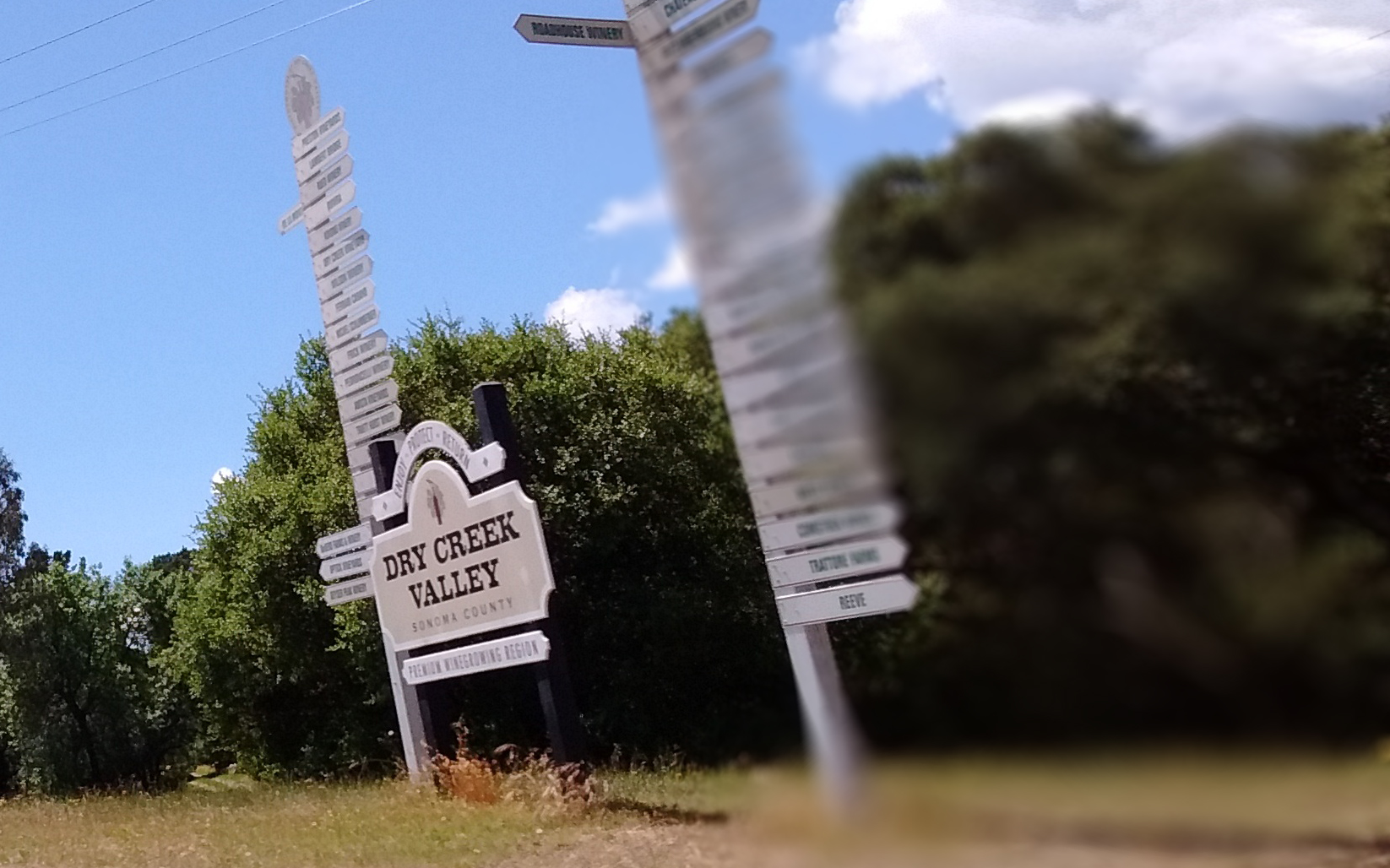 Thankfully this ride was much more successful than Oceanside, and I was able to keep one of the other women in view (albeit blurry) for nearly the entire distance. It's helpful to have a rabbit. But of course, once I got to the run, I had my work cut out for me, trying to catch the women who had out-biked me.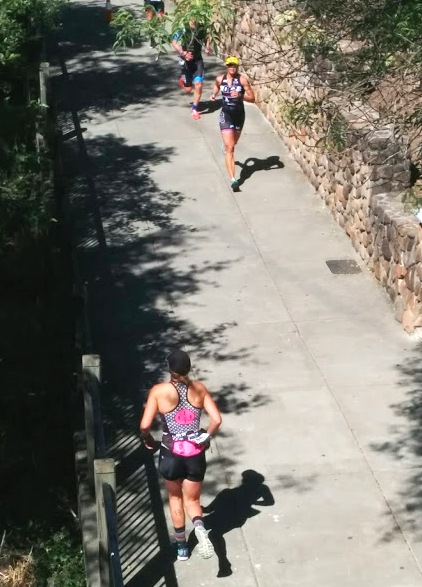 This was a great run course, following the Santa Rosa Creek along a pleasant, shady trail that was some pavement, some hard packed dirt. It's exactly the place I'd probably do all my runs if I lived in Santa Rosa. The volunteers were plentiful, my spectators got to see me multiple times on the route, I advanced 5 positions, and I finished feeling really good.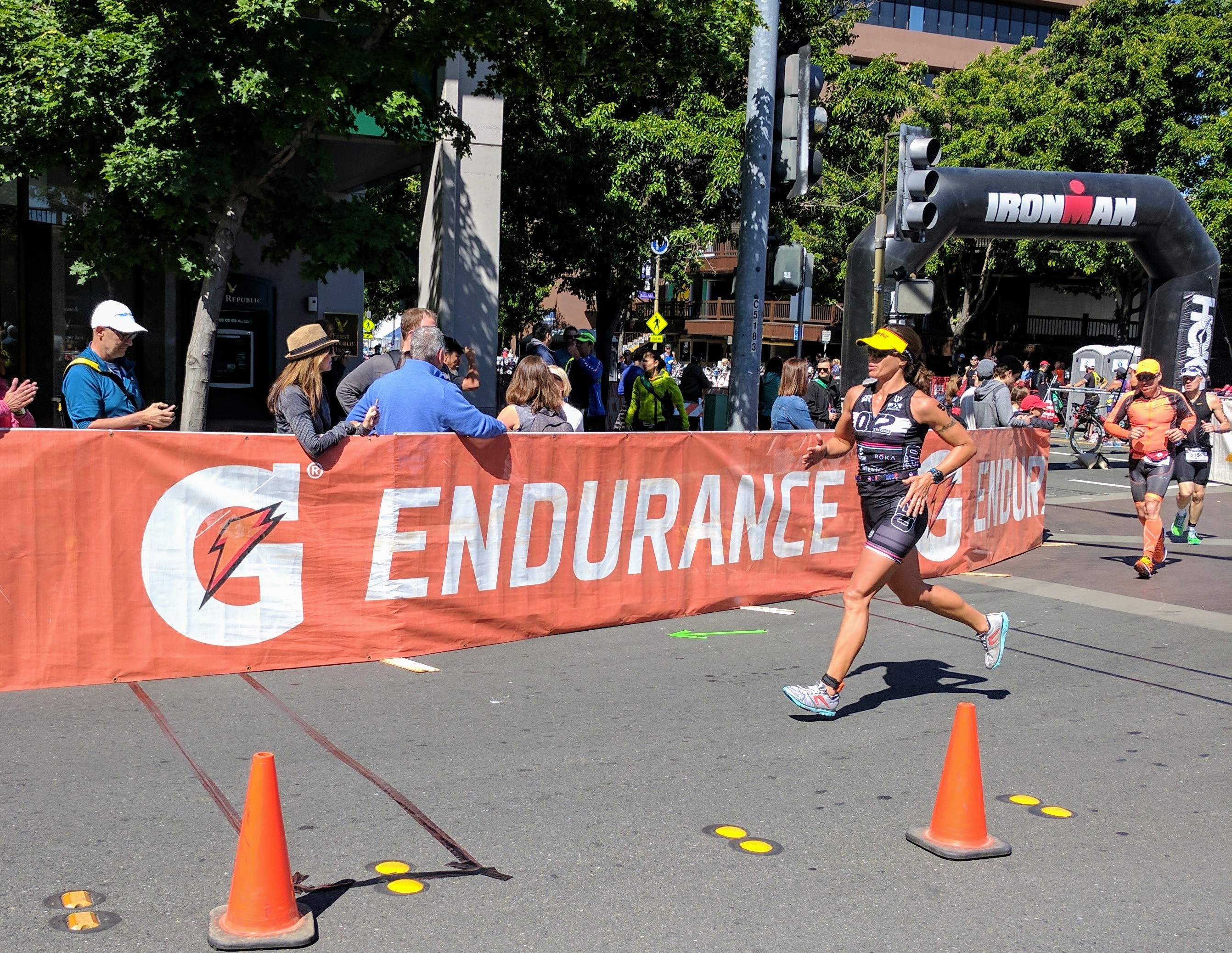 Photo credit: Heidi Buttery
It took me awhile to figure out what exactly it was that had me on such a high after this race. I ended up in 14th, but it's hard to conceptualize the value of 18th place, versus 15th, versus 14th. They're all a long way from the podium. But the podium isn't the reason I show up to these things.
I've heard coaches, pros and pundits preach the familiar refrains:
"Most athletes can't make a living off being a pro."
"Why race at the elite level if you're not trying to get to the top?"
"The whole field will be two miles down the road from you."
But the thing is, the whole field wasn't two miles down the road from me. Half of us finished in the same span of ten minutes. Several of the women who came in behind me have beaten me before. And in other races, I've even come ahead of a few of the women who finished in front of me that day. The competition was perfect, and it was thrilling, being lodged firmly in the middle of this group of badass women.
When I first joined their ranks, I wondered if I might find myself in the adult version of Mean Girls. I mean, these are some unusually competitive personalities, right?
And sure, it's not like the pros are out there smiling and high fiving each other on the course… Well actually, I take that back. I lit up like a Christmas tree when I saw Holly Lawrence coming in hot for the finish (I was just starting my second lap), but come on, its Holly Lawrence!
Admittedly, there can be some icy poker faces before and during the competition, or some strategic psychological power plays. I'm sure some people think that's what I'm up to when I climb into their back pocket during the run and they have to spend half a mile listening to my weirdly calm yoga breathing three inches from their ear before I finally make my pass. But I swear I'm not doing it to be obnoxious! I just really enjoy running right behind people. I call it "drafting."
But overall, the women have been really supportive and friendly. It's almost like we're on the same team.
I came away from this race knowing for certain that I just love racing. I love it for what it is, regardless of my finish time. And I love having that really intense competition surrounding me.
Moral of this story is: I'm right where I belong, doing exactly what I should be doing.