2015 marked the inaugural year for the Tri Club Championship Series, sponsored by Goodwell Fitness, and the almost too-good-to-be-true grand prize was a destination race package (flight, hotel and race fee included). The contest included almost a dozen local races throughout the 2015 season where athletes could accumulate points based on race distance and finish placement.
Since I am highly prize motivated, this challenge sucked me in immediately and by the end of summer, I had climbed my way to the top of the scoreboard. With just two events remaining, the top three slots were neck and neck, and it came down Scott Tinley's as my final opportunity to seal the deal. It all seemed a little unreal when my win at that race confirmed me as the recipient of the grand prize, a free trip to any location that Alaska Airlines flies!
The choice was obvious.
Over the years, I've won various loot at races, either for racing hard or for simply sticking around until the raffle is over. But rarely have I won anything that I can actually share with my #1 spectathlete, the man who groggily accompanies me to pre-dawn transition set-up, stands around for hours waiting to cheer me on during the twelve seconds that I pass by on the race course, and then helps me lug my gear back to the car when my legs can barely hold me up anymore.
It was time I properly thanked Brad for the role he plays in my triathlon success, and one thing he deserved was a second shot at our honeymoon.
He sacrificed much to make that original trip happen, with the intent that it was a one-shot deal. For months he stockpiled airline points, working a lonely, grueling schedule that included four flights and over thirty commuting hours per week, traveling back and forth between Wisconsin and California as a consultant. He worked long hours and lived in a hotel for the better part of year, with a laser focus on the end result: a first class dream vacation to Puerto Rico right after our wedding.
But things did not exactly go according to plan.
We did our very best to keep a positive spin on the experience, lest we seem ungrateful for the astonishing perfection that was our wedding day. But I know the "adventure" that began our Puerto Rico trip has never quite sat right with Brad.
A connecting flight cancellation and eventual re-route meant that we spent two days of our five day tropical vacation stranded at the airport, waiting in lines for re-booking, waiting to see if they could locate our luggage, waiting outdoors in the snow (with nothing but beach gear) at a makeshift shuttle stop amidst JFK airport construction.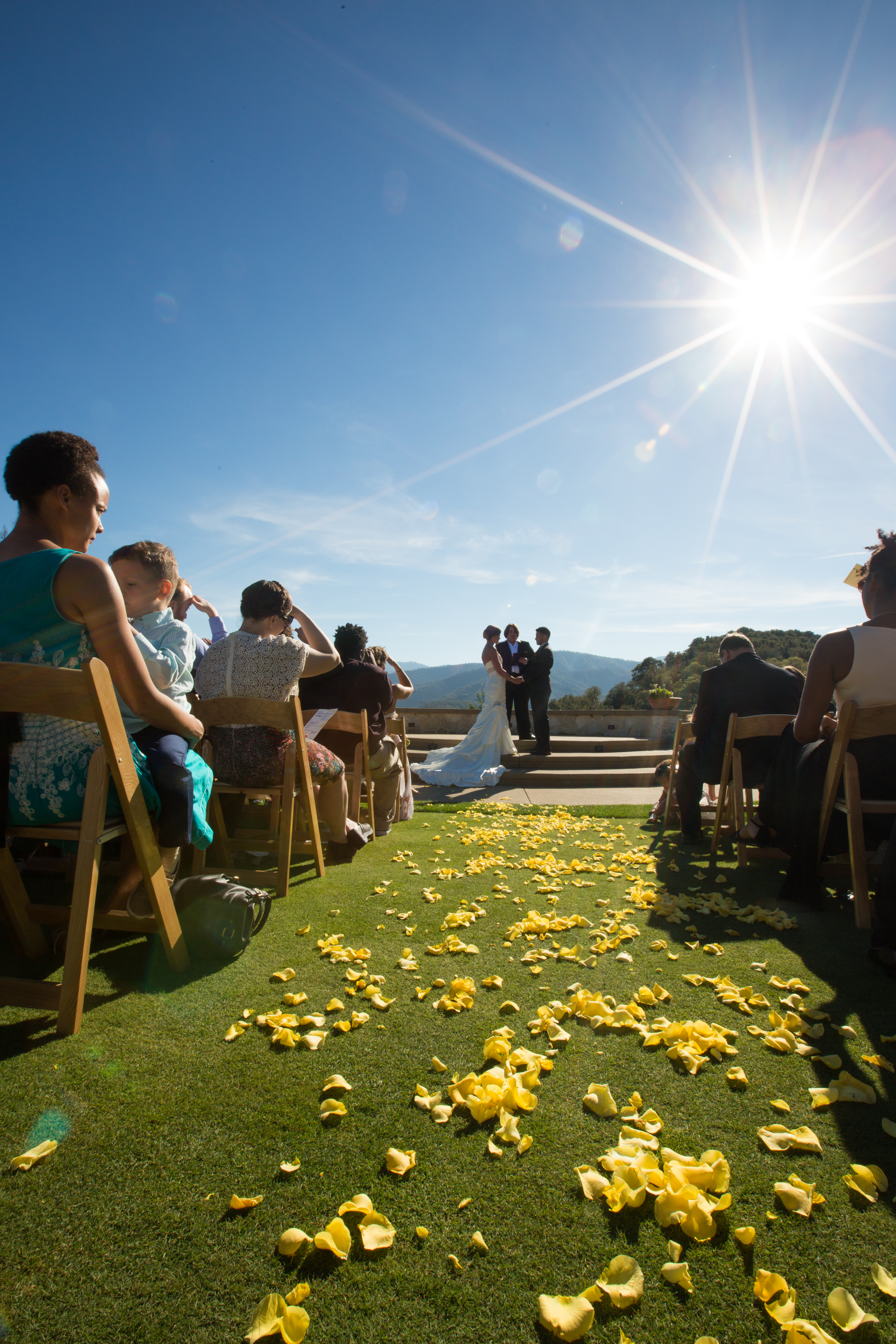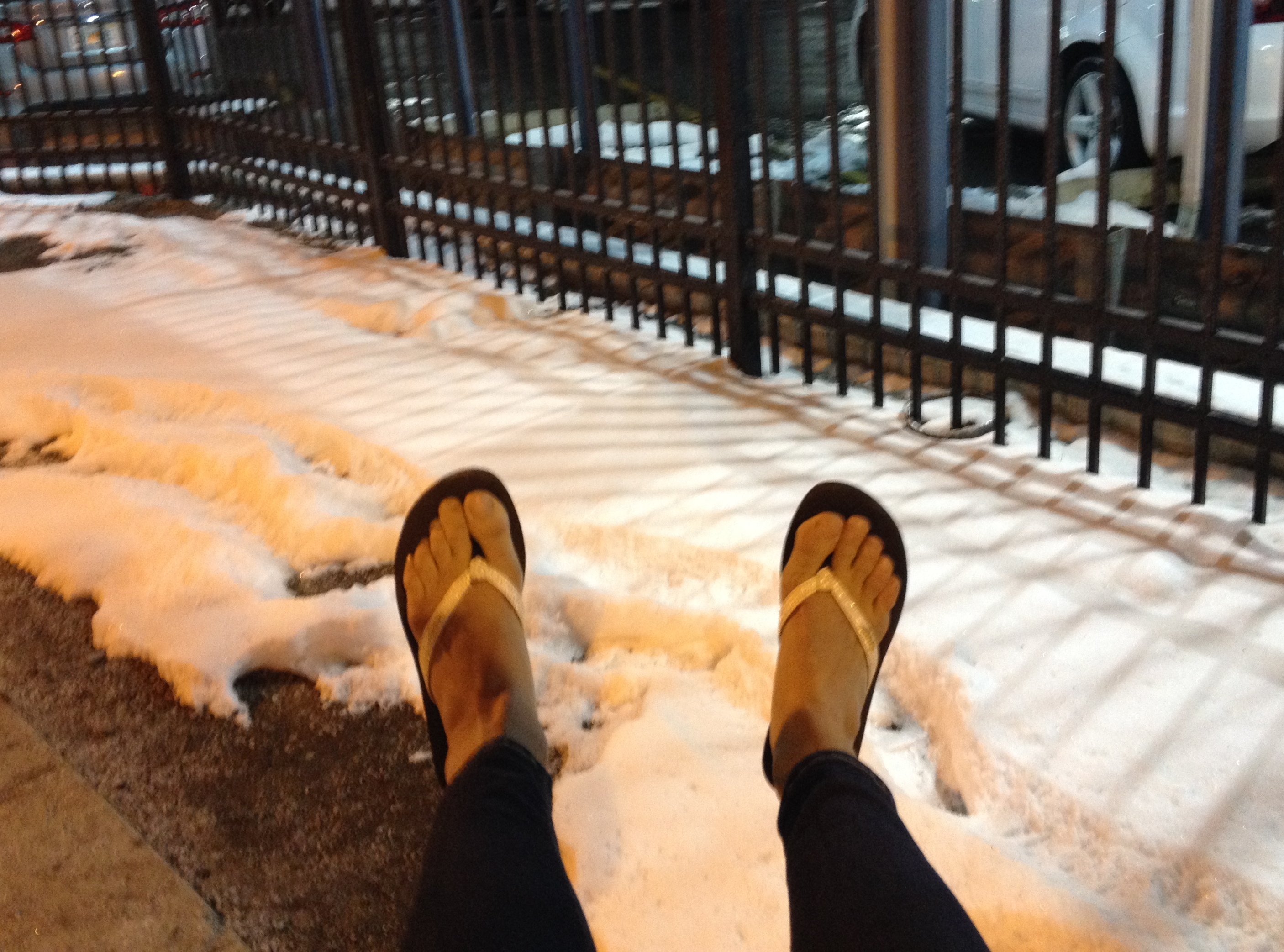 The airline wasn't able to replace our first class booking and we weren't even seated next to each other on the eventual San Juan bound flight. It was a travel nightmare, and we arrived in Puerto Rico exhausted and ready to sleep for the remaining three days.
This serendipitous TCCS prize gave us a second chance to get things right. And where does Alaska Airlines fly? Hawaii!
Tropical Honeymoon: Take Two!
Of course, this prize isn't just a vacation, it's a race AND vacation (the best kind of trip, in my opinion), so I had to find a race in Hawaii to anchor our trip around. There were plenty of options to choose from, but I finally landed on the Waikiki Roughwater Swim, a 2.4 mile ocean race in Honolulu in September. This annual event has a significant place in triathlon history, as it was included in the first ever Ironman race in 1978, and is the reason the 140.6 starts with a 2.4 mile swim.
Honeymoon destination: Check
Iconic race in said destination: Check
… and then little sister (who happens to live in Hawaii) says, "Hey why don't you join us for the Hana Relay while you're out here?!"
Two races?! Count me in. In fact, count Brad in too!
We headed towards Honolulu a few days before the Roughwater, along with dueling hurricanes Lester and Madeliene. Luckily the storms lost interest in Oahu at the last minute, and the threat of heavy rain and high winds conveniently tapered out by Monday. We were set for a perfect day in Waikiki, with "just a little current," as they cheerfully announced that morning. More than 700 of us lined up on the beach for our morning of fun, and the starting horn sent us dashing into the surf.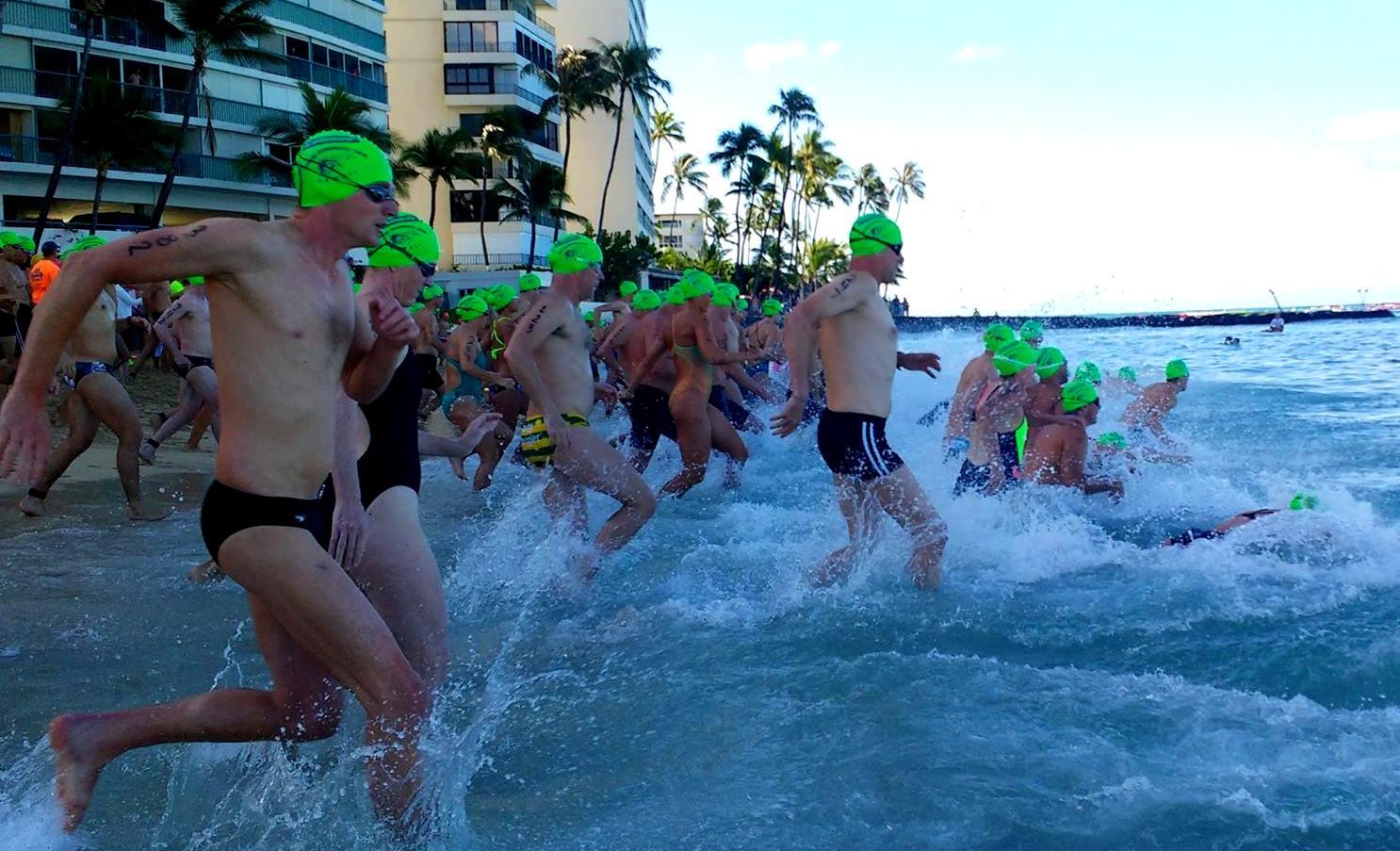 Although I lack a healthy fear of sharks, I'm still a little uneasy ocean swimming by myself, so this was fantastic! I had dozens of swim buddies all around, and could relax and enjoy the warm water and views of the coral and fish below. The shoreline shrunk in the distance and the water got deeper, and I could tell the ocean floor was much further away than it appeared.
For one thing, it barely seemed like we were moving at all! I spun my arms at a ferocious pace, and to my amusement, it felt like I was merely suspended in space as I stared down at the same rock below. As I glanced to my right, the Waikiki skyline was also so far away that it appeared not to change either. When I got bored of looking at the same swath of ocean floor, and the same slice of skyline, I focused instead on staying with the pack of swimmers nearest to me, which was tough since the rolling waves kept swallowing them from view.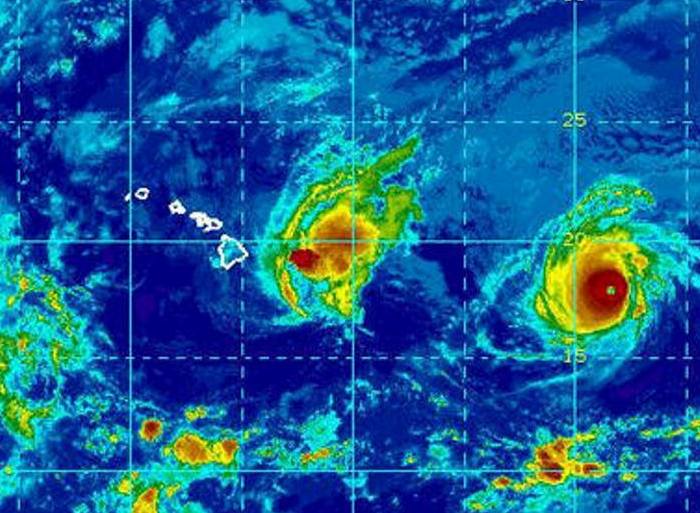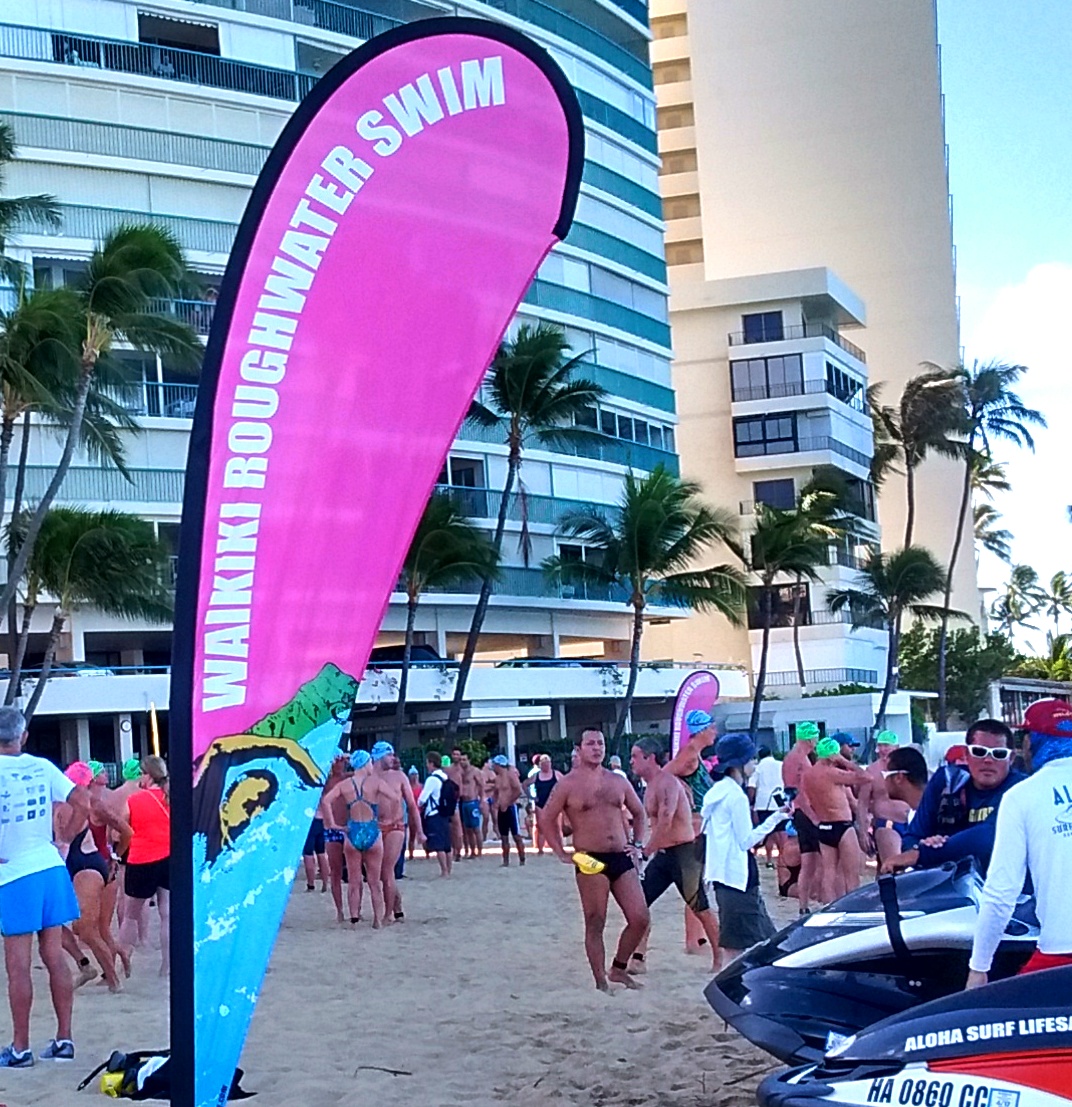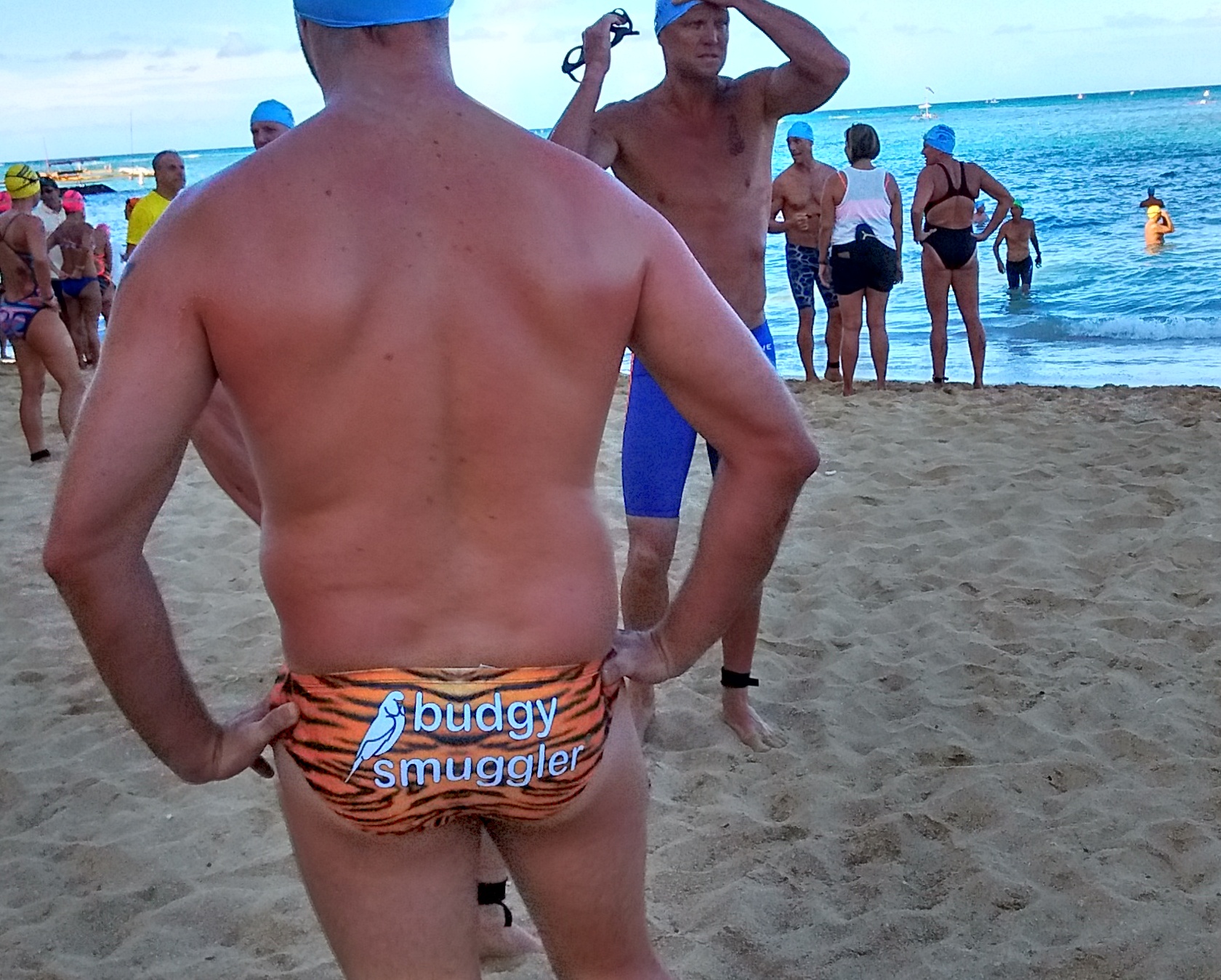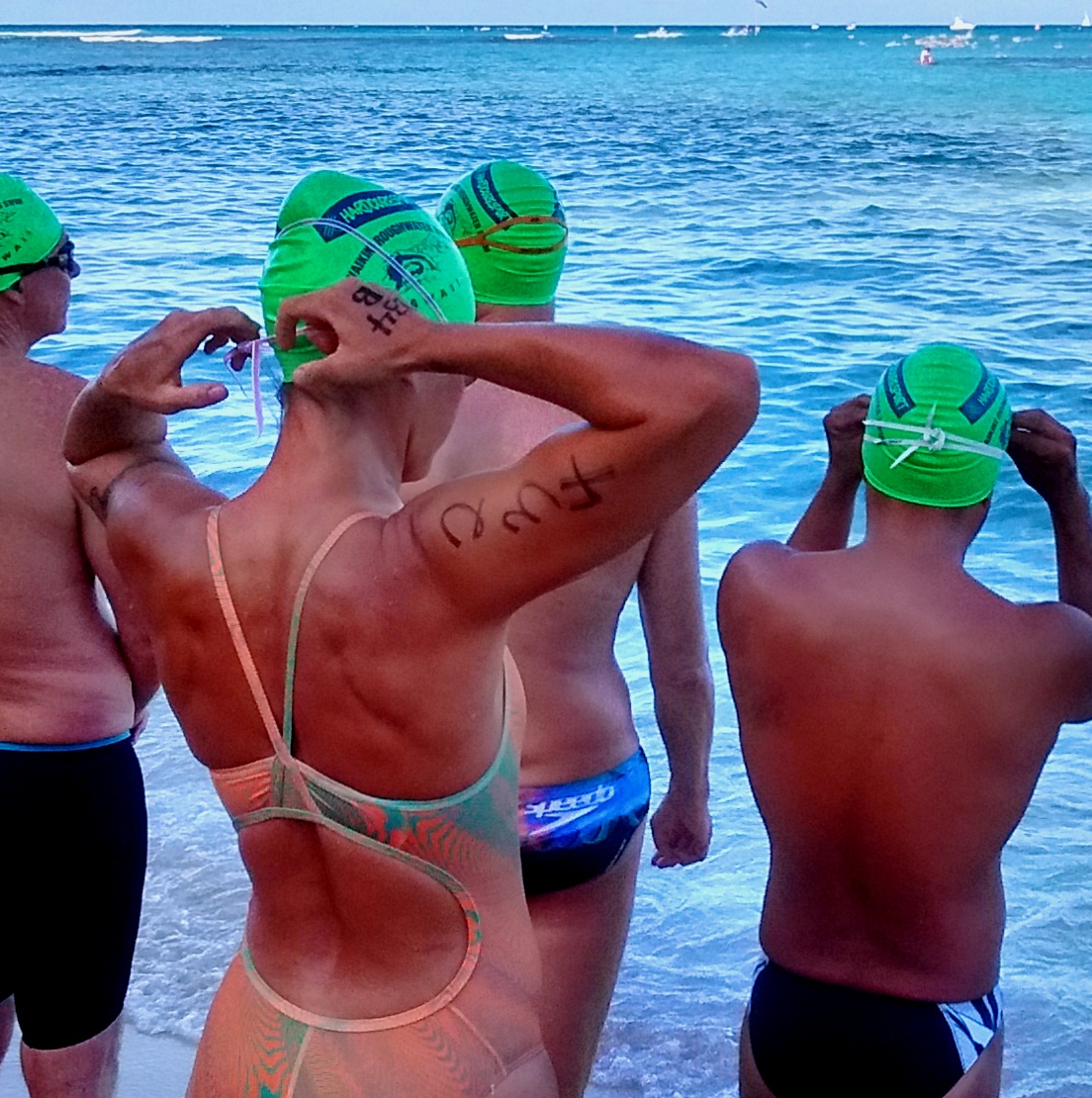 Gradually I began to tire of the aggressive pace and as they opened up a gap on me, I was stuck once again just staring at the illusion of the unmoving ocean floor. My glimpses of green caps to chase after became fewer and fewer, so clearly I was slowing down. It was odd that no one was passing me as I slowed, and I marveled at how lonely it was out there, even though surely there were hundreds just behind me…
Suddenly I began to feel uneasy, so I stopped swimming and popped my head up to see just where everyone was. The water swelled and dipped all around me, and as I craned my neck to look ahead, behind, to the sides, there was not one single swimmer in sight. How could that be? I looked towards my destination at the far end of the skyline, and it still looked tragically, impossibly far away, even though I must surely be at least to the halfway point by now. I was swimming my heart out in exchange for progress so glacially slow it was almost imperceptible. Feeling discouraged, I swam a few more lackluster strokes, then stopped to bob in place once more. I was tired and my throat was raw from the saltwater. I gathered up my courage, and resumed my task once more, struggling to hang onto whatever was left of my swim form in the face of growing hopelessness. I tried switching to breast stroke and back stroke, I tried counting bottles of beer on the wall, a few times I even had to close my eyes, because the sensation of swimming in place was becoming unbearable.
Although I am no stranger to dogged perseverance, this seemed like it could truly be my limit. A few more times I stopped to tread water, think about giving up, and then talk myself back off the ledge. Each time, my eventual conclusion was that I had no choice. I could keep swimming and maybe be stuck in the ocean forever, or I could stop swimming and definitely be stuck in the ocean forever. There were no agreeable alternatives.
Finally, mercifully, the last turn buoy came in to view and I began the final leg of the journey towards the distant finish chute. A sea turtle glided magestically beneath me as I dragged myself closer and closer to the beach, eager for the moment I could finally stand and stagger my way up the sand like a shipwreck survivor.

When the glorious moment arrived, I was momentarily horrified to hear the announcer say that it had been nearly two hours since the start of the race, but I was then easily soothed by the post race ice cream, which was without a doubt the best possible way to erase the salty misery I had just endured.
I was also relieved to discover that I wasn't the only one on the struggle bus that day. Veteran Roughwater swimmers confirmed that this was one of the most brutal swims in the event's 47 year history, and it was later reported that conditions were so harsh that 300 swimmers had to be pulled from the water.
After that, I was happy to pack away the goggles and pursue Hawaii land adventures such as hiking, rock climbing, and barbecuing.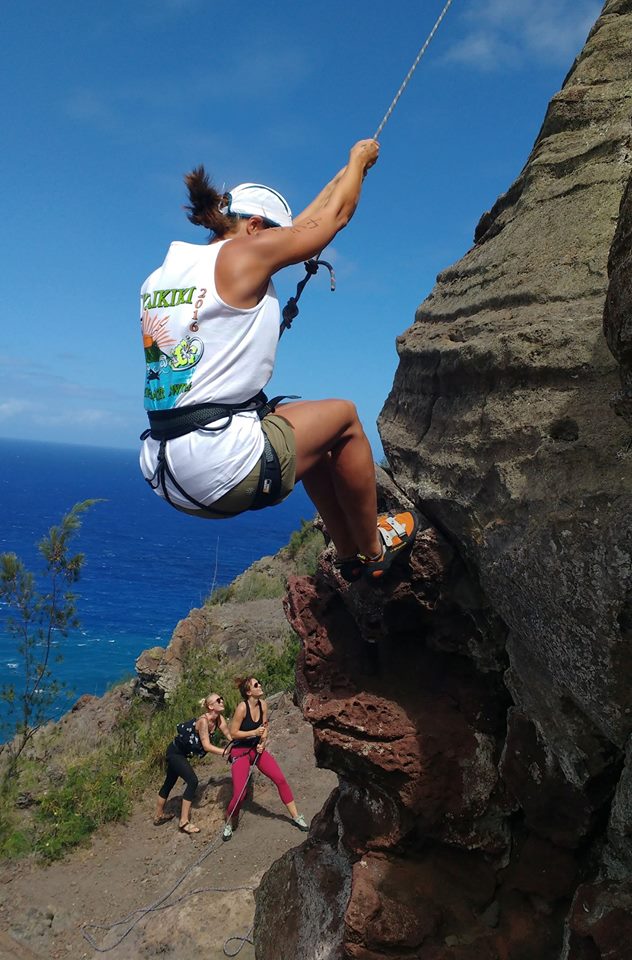 Trying not to be scared of heights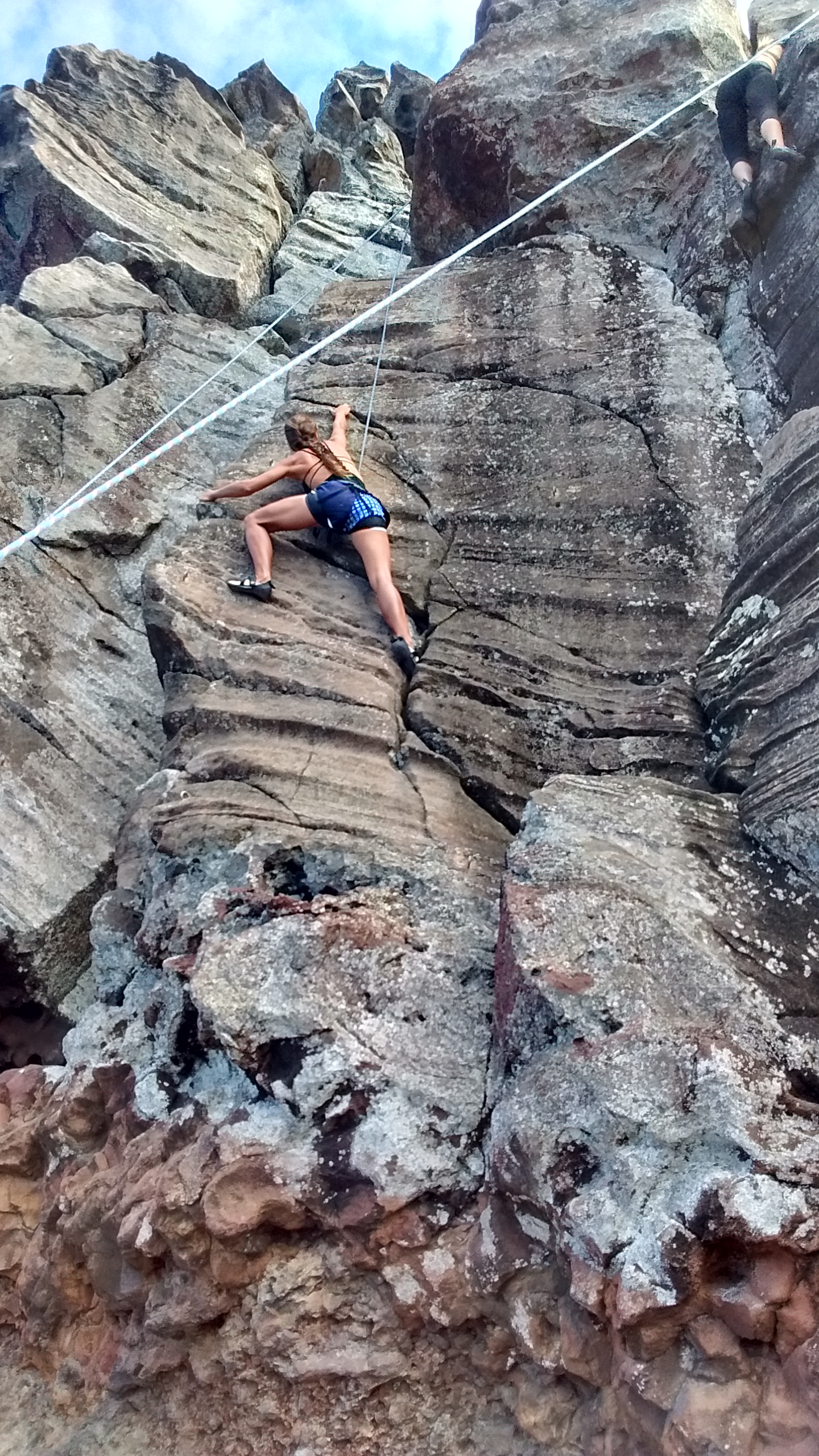 Lil Whip scaling the rock wall like a spider monkey
Part two of the Hawaiian adventure took place on Maui, first the honeymoon rematch, complete with sushi by tiki torchlight, moonlit walks on the beach, and days spent lounging in hammocks with Mai Tais. Success!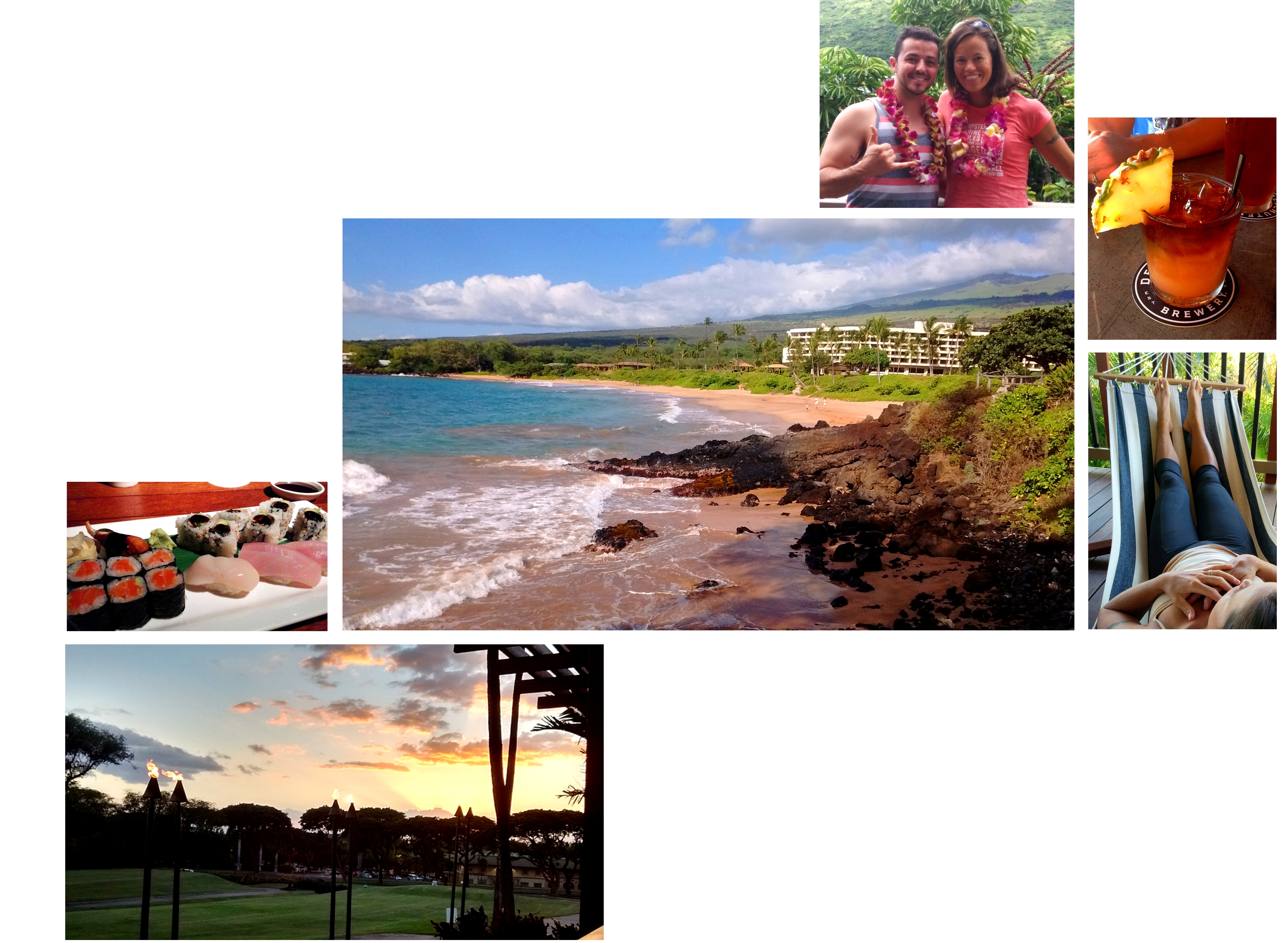 After a few lazy days, it was time for the Hana Relay, another iconic Hawaiian staple. An event now in its 45th year, the annual 50 mile relay travels the winding coastline along the Road to Hana.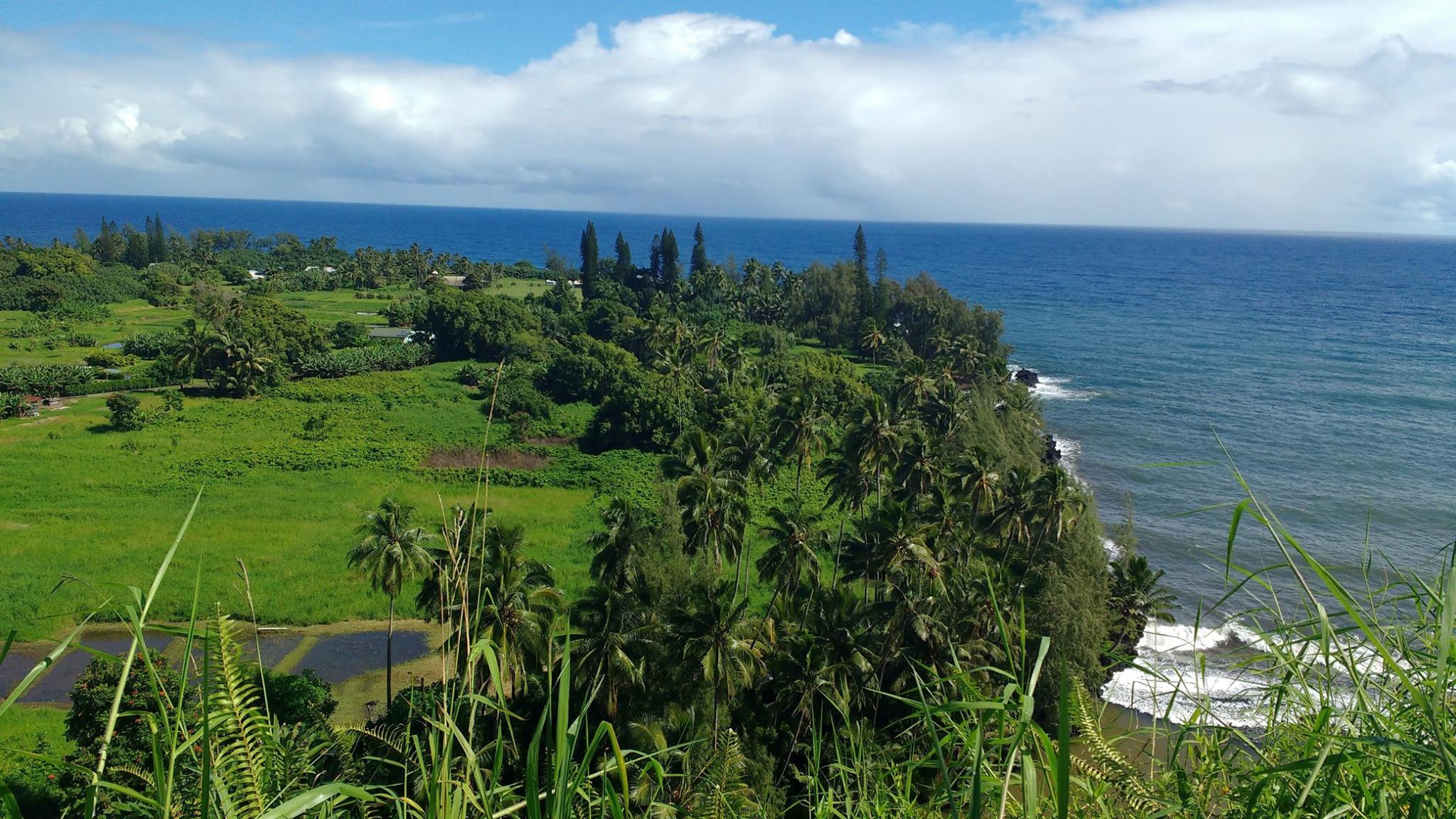 Lil Whip arrived with the rest of our team, a van-full of raucous science friends from Honolulu. The relay is a festive event that celebrates creative team themes and a good sense of humor, and thus, our team name was the Winning Streakers (despite the fact that we had little intention of actually doing either). Our signature look was a very fake looking pair of "bum shorts," lightweight, hideous, and relatively easy to run in.
We put our teamwork into action with the task of gathering road trip snacks and 20 gallons of water, and we were already feeling like winners by the end of our record-setting thirty minute Costco trip. Next we sat down to review the race rules and distribute the eighteen relay legs – three per person.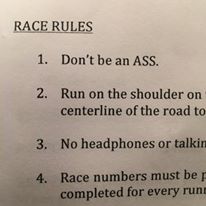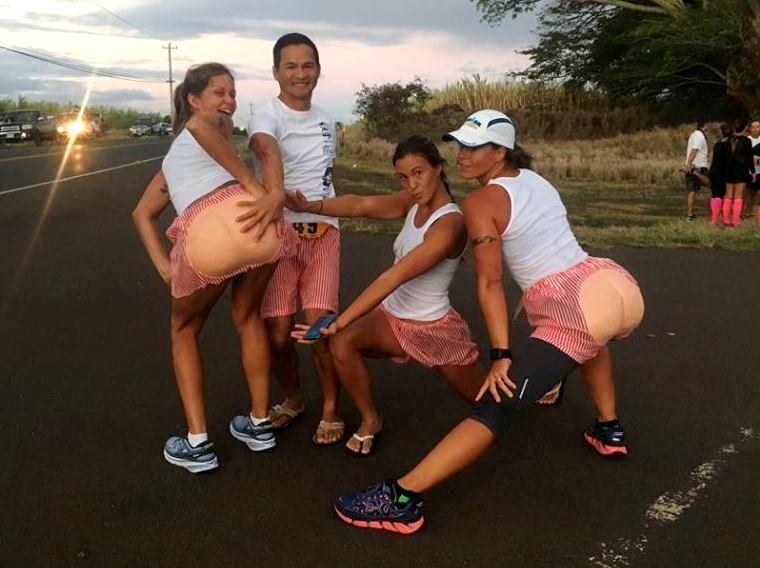 It was determined that I had the most competitive drive to draw from for the first leg, the only individual split that the race officially recorded a time for. But other than that, our general team strategy mostly involved achieving maximum entertainment value.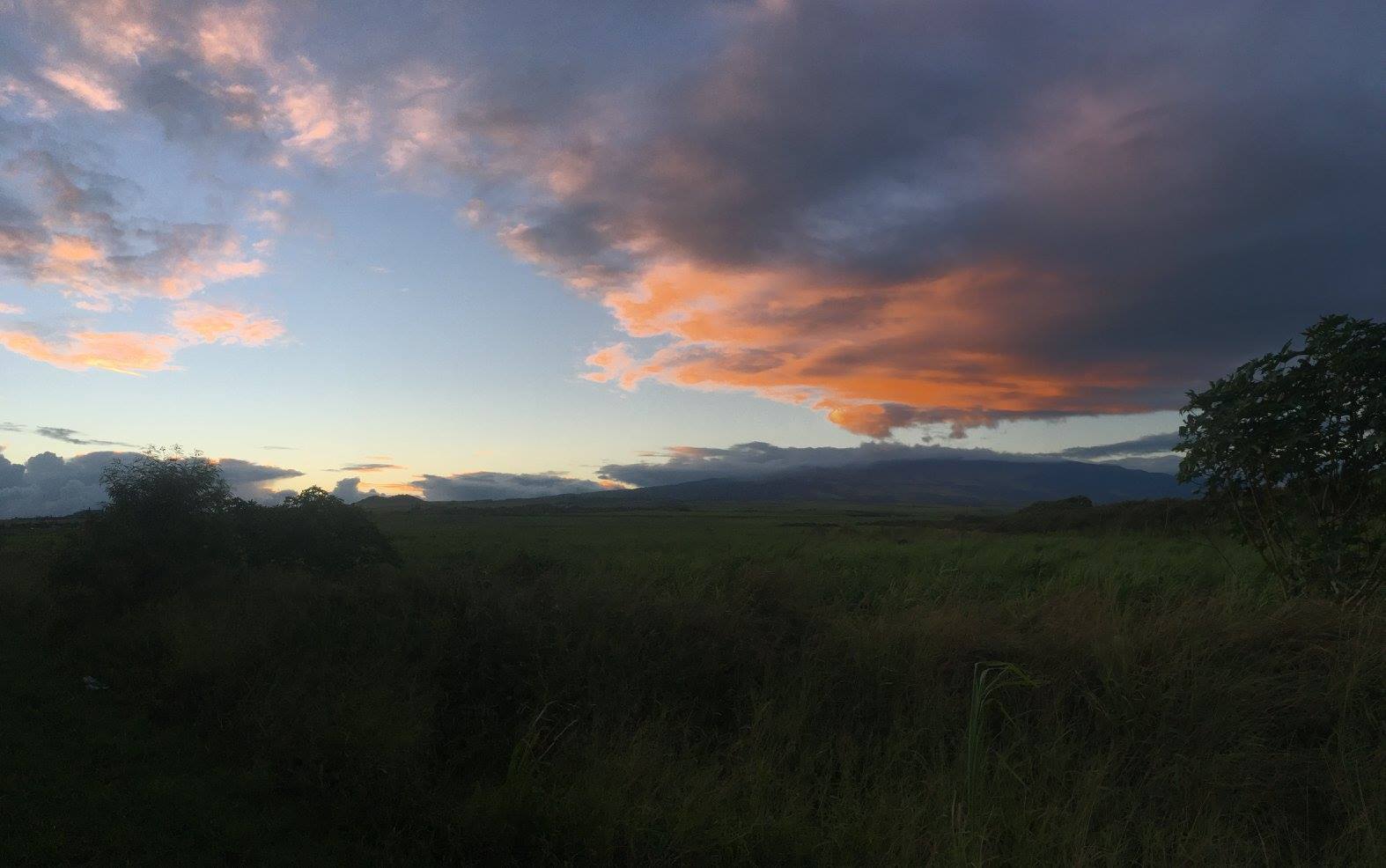 I started us off at 5:45am, charging after the speedy starting runners for three other teams, but they quickly disappeared into the darkness and soon I was all alone. It was too dark to see my watch, so I couldn't tell what pace I was running, or how far I'd gone. Eventually the sky began to lighten, and I heard footsteps approaching behind me. Crap, was I slowing down enough that the crowd behind was catching back up? I attempted to speed up, but the footsteps grew louder, and I tried to contain my frustration as Batman pranced gracefully by. As he passed, he turned back to look at me, and with a sweep of his arm he said, "Come on!" I must have been staring at him like he was a lunatic, because he did it again, "Come ON!" Relieved to have someone to set the pace for me, I dutifully tagged along after his flowing cape, and he carried me the final mile to the first hand-off point, where I passed the baton off to Brad, high-fived Batman, and then climbed into the team van, the day's adventures officially begun.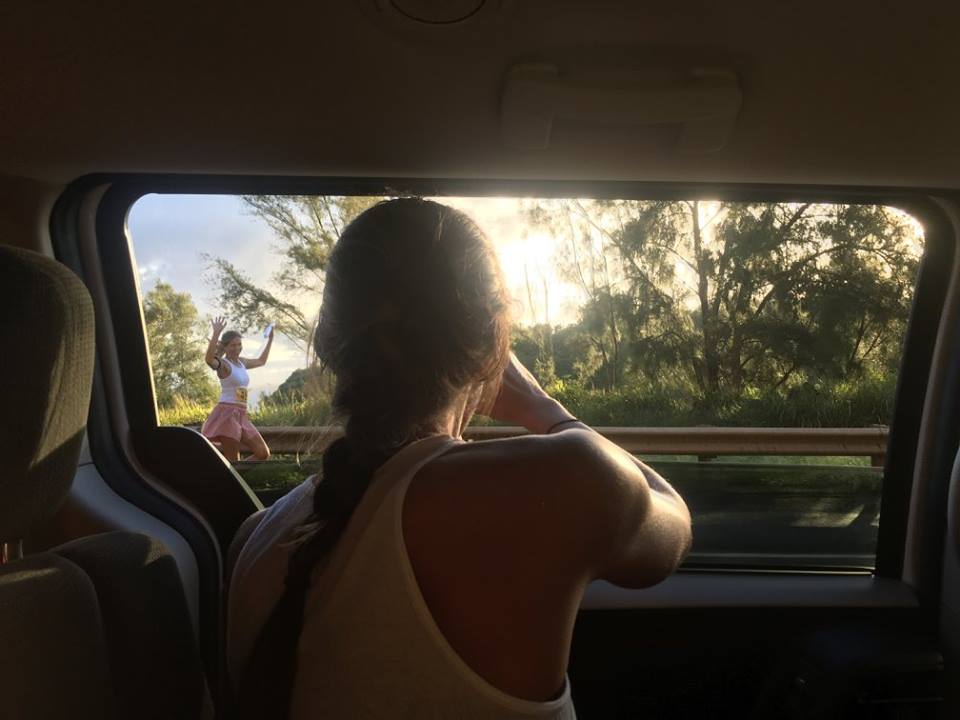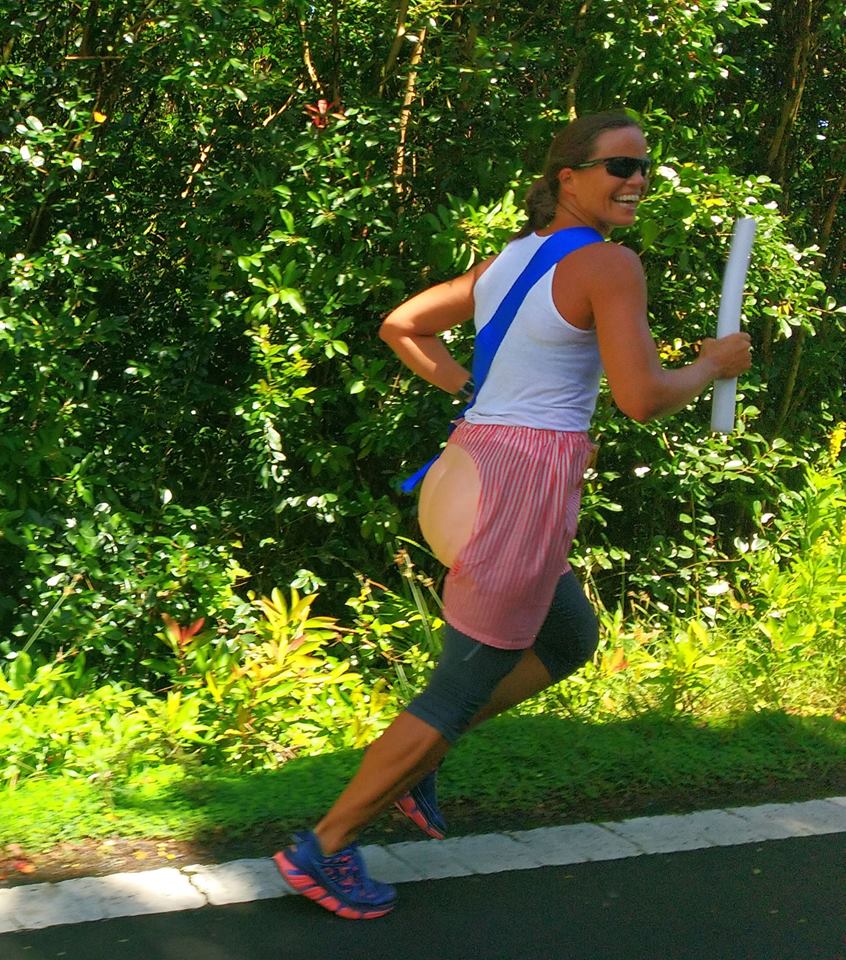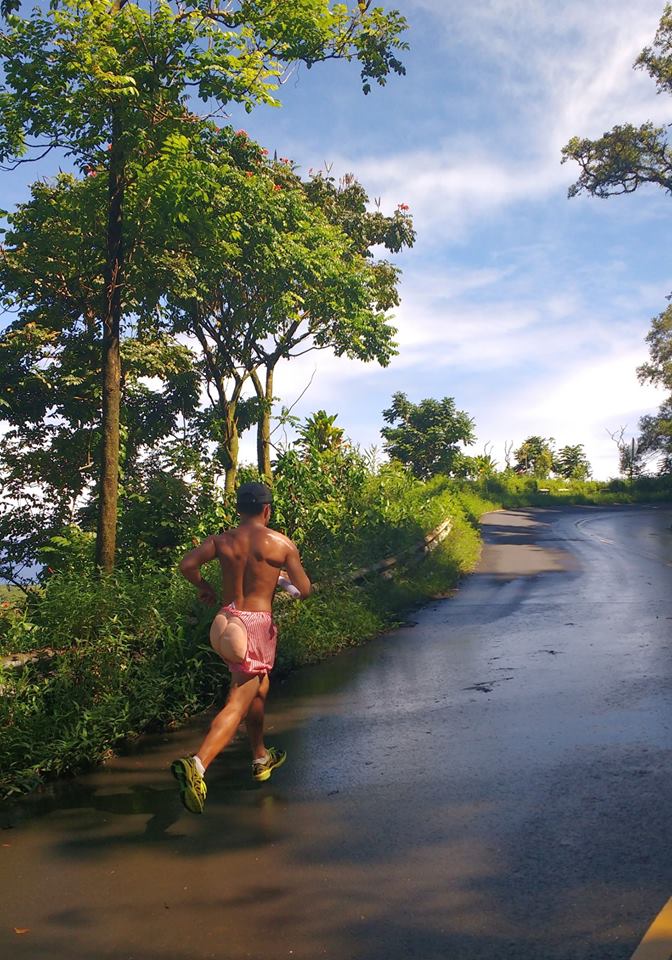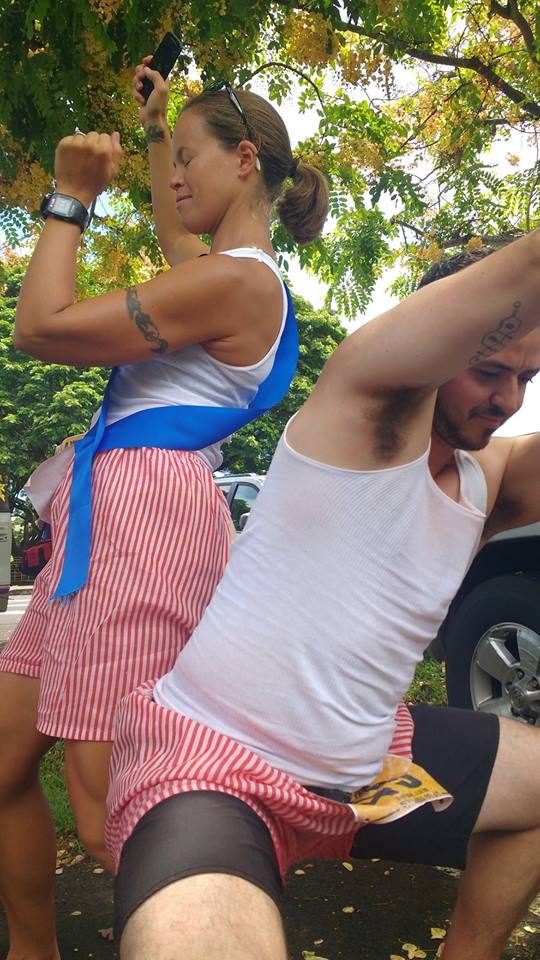 As the day warmed up, the van got stinkier, and we began to solidify a new team strategy. Some of the Winning Streakers were good at charming the pants off of our competition, distracting fellow runners with jokes, conversation and a few slick dance moves. The overall atmosphere of this race is one of fun and celebration, so this technique was well received. Meanwhile, the more competitive Streakers gradually steered the team towards the front of the race. After several hours, it was becoming clear that we were pulling ahead, as the hand-off points were less and less populated, with the majority of the teams still several miles back.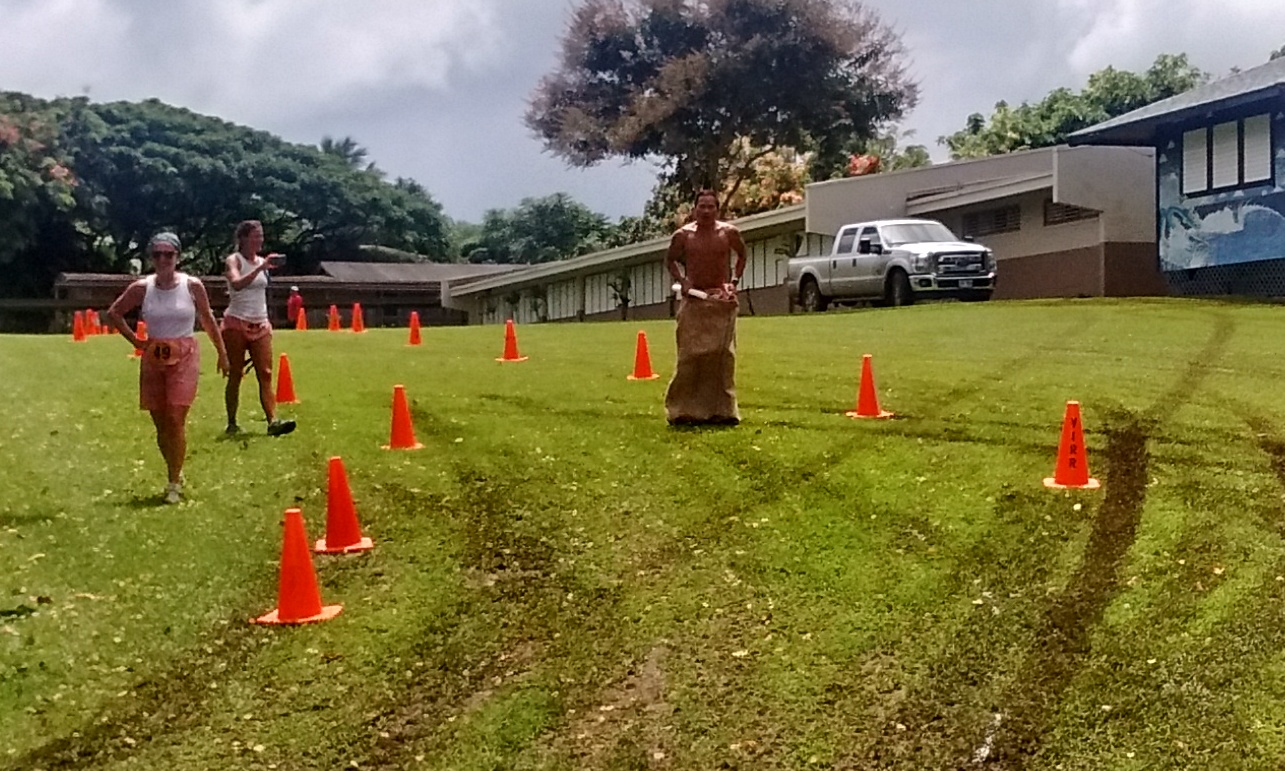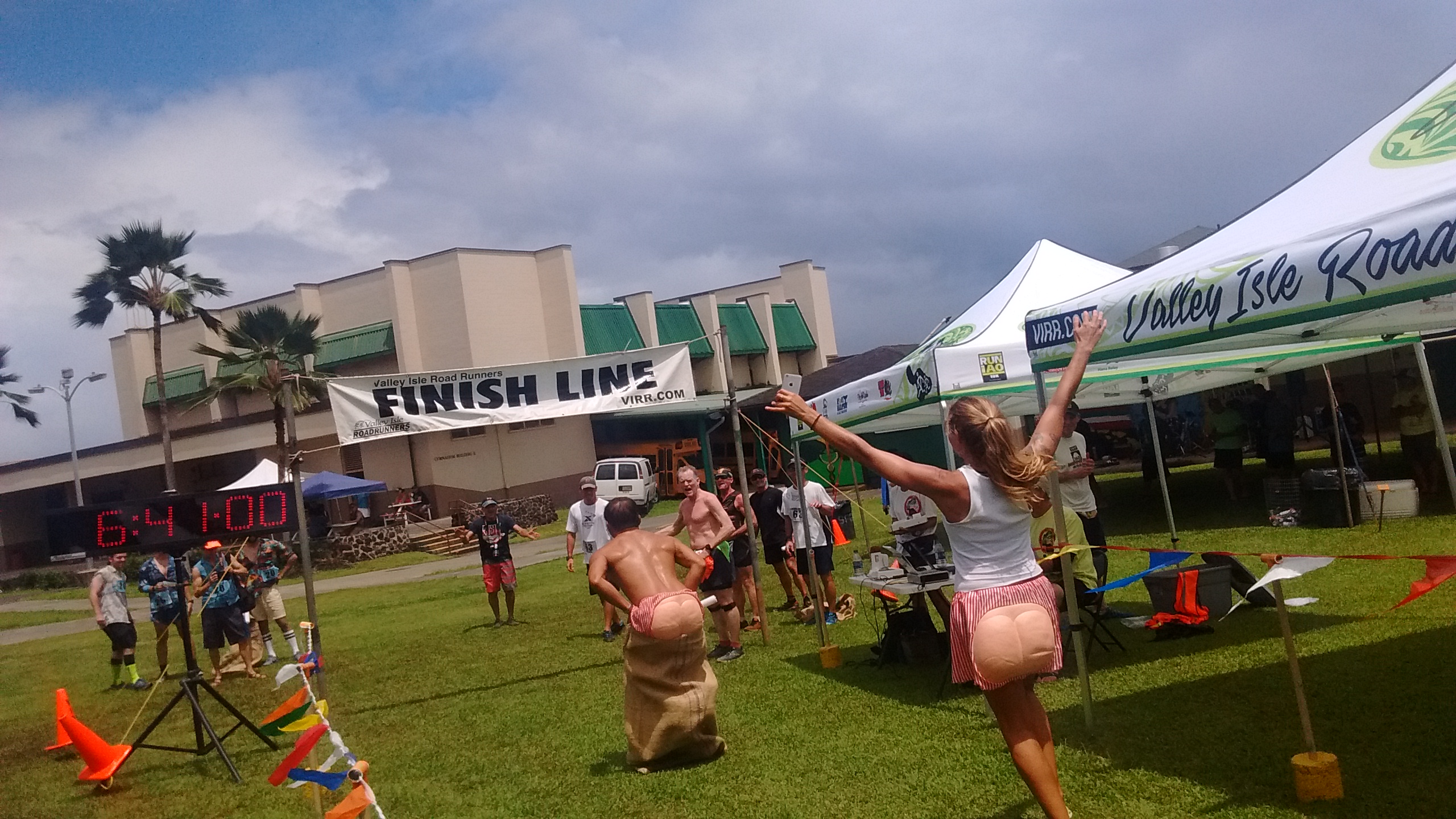 Leg #18 of the Hana Relay is the shortest – but hardest – of the entire race: a 50 meter potato sack race through the mud. Our intrepid teammate Wen was (the only one) up for the challenge, and the rest of us cheered him on as he made his pathetically slow progress to the finish line.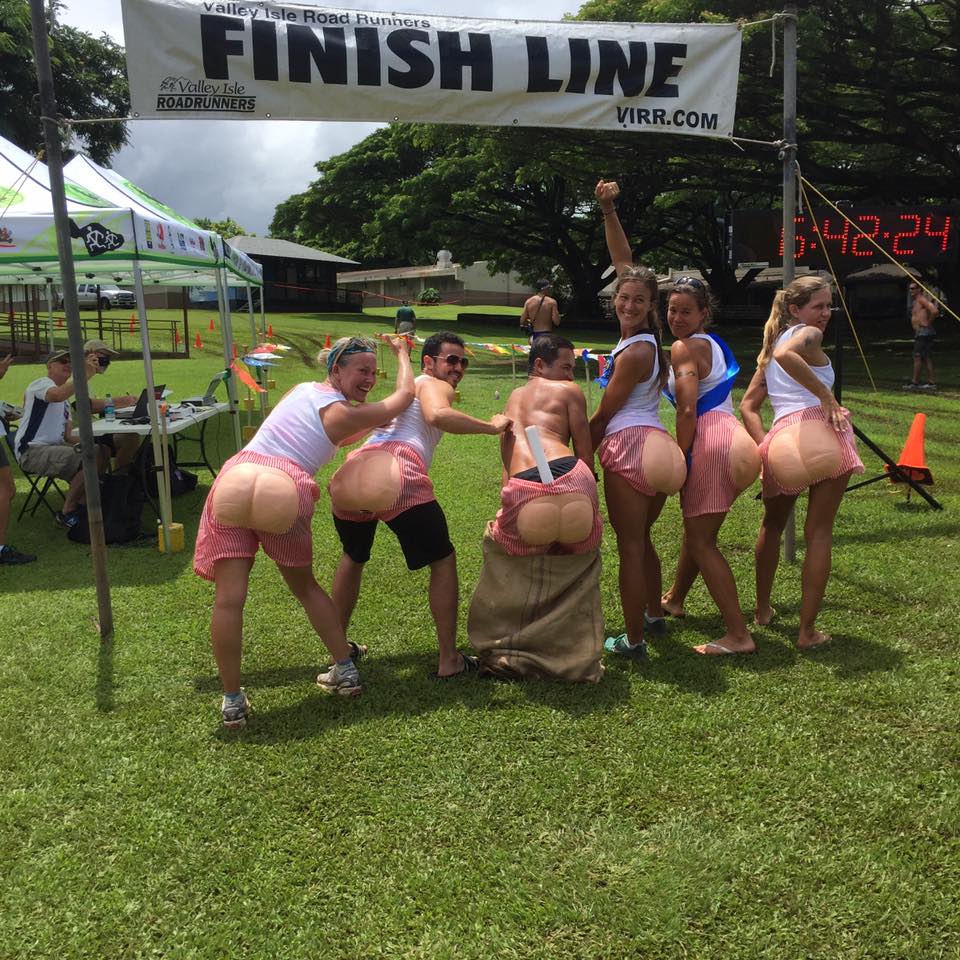 A spirited and easily entertained group, the Winning Streakers were thrilled simply to have finished the race, but the icing on the cupcake was our 2nd Place title in a field of 43 Mixed (Co-ed) teams, the largest division at the event.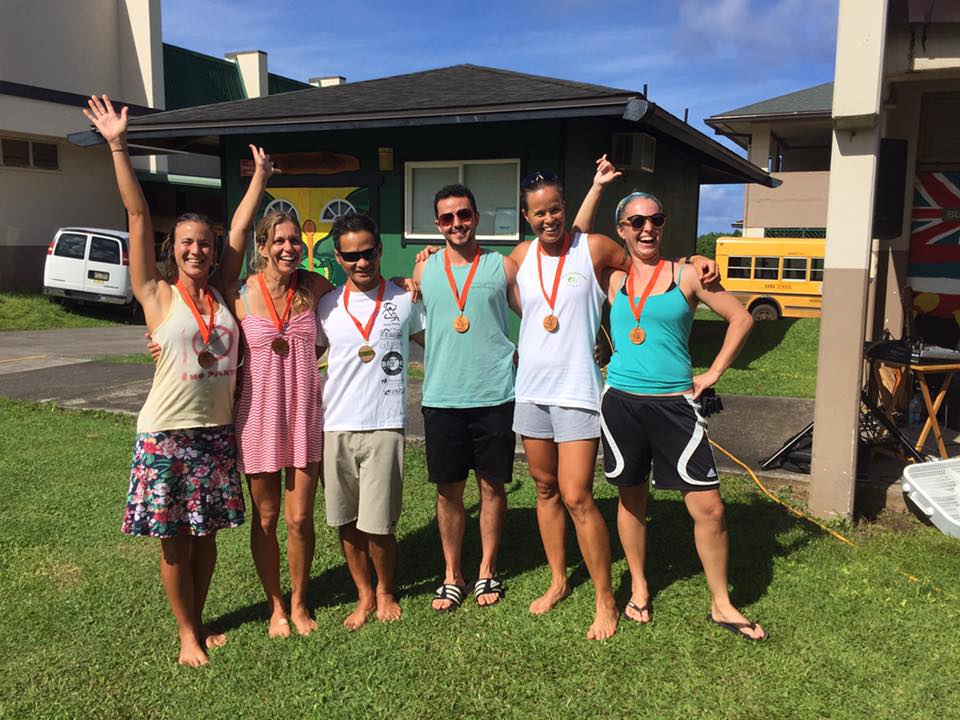 In fact, this surprise achievement was so inspiring, the spirit of victory has followed each of us into our daily lives, forever changed by this transcendent experience.